Movie Trailer: Jodie Foster's 'The Beaver,' With Mel Gibson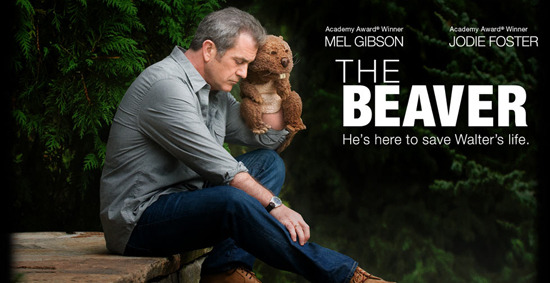 Earlier this year, when audio recordings of Mel Gibson's rants against his girlfriend were released, one of the first casualties seemed to be Summit's film The Beaver, which Jodie Foster directed and in which she co-stars with the actor. She defended him and the film, and Summit took the movie to ground to wait out the first swell of controversy.
But the company recently announced that the film would see a wide release in spring 2011, and now there's a trailer. Watching it, I can't help but think this is the best possible movie Mel Gibson could be appearing in right now. It seems almost tailor-made for a man in the situation he's built for himself.
In short, the trailer represents a film about a guy (Gibson) who, having turned into a total jerk, is estranged from his family. That is, until a hand puppet proves to be an unlikely form of therapy. Seriously — if I was a far more callous person I'd almost be tempted to think the entire 'Mel Gibson is crazy' was viral marketing for this movie. (For the record, I'm not that callous — those rants were scary and freakish and awful.)
I also wonder to what extent this trailer is cut specifically to emphasize parallels between the film and real life, at least in a positive manner. My understanding is that there's pretty dark material in the script. Not quite World's Greatest Dad dark, maybe, but a bit more ugly than what we see here. I hope so, because the reconciliation as seen in the trailer seems way too saccharine and easily-earned.
Check out the trailer in HD at Apple.
Two-time Academy Award(R) winner Jodie Foster directs and co-stars with two-time Academy Award(R) winner Mel Gibson in THE BEAVER – an emotional story about a man on a journey to re-discover his family and re-start his life. Plagued by his own demons, Walter Black was once a successful toy executive and family man who now suffers from depression. No matter what he tries, Walter can't seem to get himself back on track...until a beaver hand puppet enters his life.