New Images: 'The Tree Of Life,' Plus A Trailer Description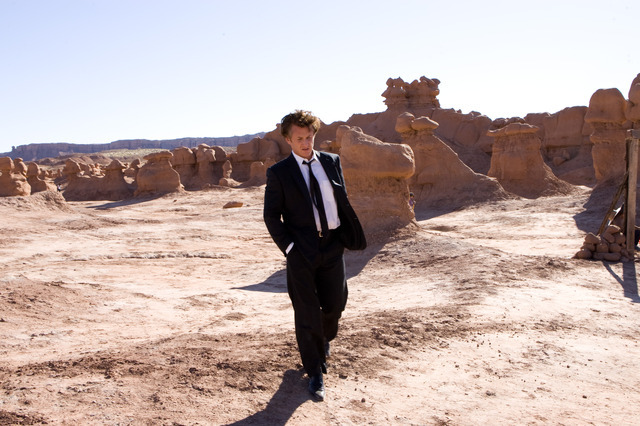 The image above and one below are two new images from Terrence Malick's long-awaited The Tree of Life, the trailer for which will be running in front of prints of Black Swan starting tomorrow. (Or tonight, if you've got midnight showings in your area.) If you've been keeping track, that makes a bare handful of images released over the past couple of years that we've been waiting for the film to be finished and hit theaters. Yes, we'll see the trailer shortly, but in the meantime we'll take what we can get. The debut of new material from Terrence Malick is an event.
Check out the other image below, along with some information about the trailer to tide you over until the online version arrives.
The LA Times has the images and info, and says that "judging by the small amount of footage we saw today, Malick has created a mystical, rich and satisfying film." That's a massive assumption of course, and the paper has a reservation or two, but overall the impression seems to be that the trailer plays well, and I'll take that for now.
Expect to see Mr. and Mrs. O'Brien (Brad Pitt and Jessica Chastain) and images of the birth and childhood of their son Jack. There's a report of an interior monologue from Jack which, frankly, scares me a bit, but I'm waiting to hear how it plays. And then we see Jack grown, played by Sean Penn, and that's where, as the LAT says, "the trailer takes a turn into an  epic, unnamed crisis."
Along the way are images of the visual beauty we've come to expect from Mr. Malick, and many references to the basic elements — water, fire, and so forth. I'm resisting the urge to read too much into what has been posted, and am waiting eagerly for a look at the footage. If Black Swan doesn't open near you until next week (which is the boat I'm in) rest assured that we'll present the online version of the trailer as soon as it is available.