The Farrelly Brothers' 'The Three Stooges' Moves To Fox, Begins Production In March 2011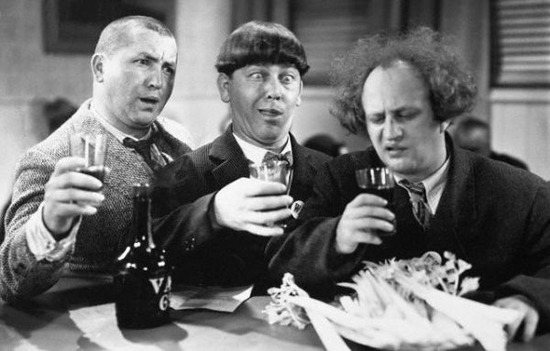 Looks like the movie revamp of The Three Stooges isn't as dead as former cast member Jim Carrey thought. After a decade of flitting from one studio to another, the film was lodged at MGM. With that company's bankruptcy clearing up, a path has led the project to Fox, which will put it into production on March 14, 2011. Peter and Bobby Farrelly will direct from the script they penned with Mike Cerrone.
The big question is: who will star?
There are some big shoes to fill. In addition to the original Stooges, who indelibly defined the characters, there was the all-star cast famously assembled for this film two years ago: Sean Penn as Larry, Benicio Del Toro as Moe, and Jim Carrey as Curly.
Sean Penn left when he had family issues to sort out, with Paul Giamatti eventually stepping into that role, but the delay in production caused the entire cast to dissolve in the months that followed.
Deadline now says "the project has no cast." We should hear new names soon, as casting will begin...now. Richard Jenkins is already in talks to play the head nun of the orphanage where the Stooges are raised. Yes, Deadline's piece says Richard Jenkins is playing a nun. If that's true, I'm in.
The site continues,
The comedy follows [the Stooges] to adulthood and is very much in the spirit of the original shorts, in which the blue collar bumblers got the best of the wealthy society matrons that tried to exploit them. Oh, yeah, there will be the non-stop physical comedy that is the trademark of the Stooges franchise.
The Farrelly Brothers just shot a good amount of Hall Pass in Atlanta and may shoot The Three Stooges here as well.
Peter Farrelly said,
The script is ready to go, and we are opening up these roles to the world right now. We'll make it with the best possible people. Our feeling is that no star is too big to audition and no matter who it is, we're going to have to see him in the role. This is not The Flinstones. You've got to be Moe Howard, Larry Fine and Curly Howard, and that could be a major movie star or an unknown.
One interesting point is that the film will be presented, in a way, as a series of shorts. It will be divided into three 27-minute segments, with each segment using one of the three versions of the Three Stooges theme. Earlier in the source article Deadline expresses some uncertainty about whether Benicio Del Toro might still be part of the cast, but that quote makes it sound like all three roles are wide open.