Cool Stuff: A Working Life-Size 'TRON' Light Cycle Replica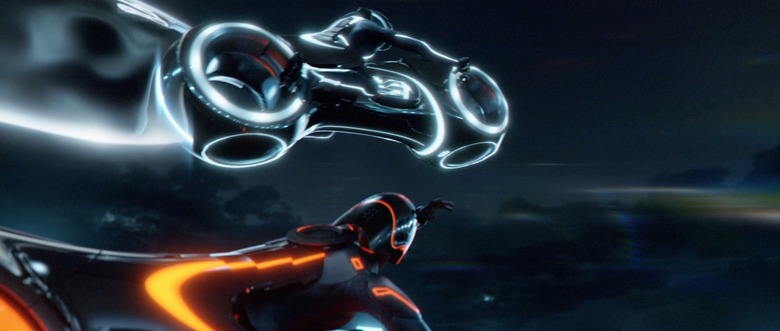 Okay, this is so frigging cool. Parker Brothers Choppers in Florida have made ten working, life size Light Cycles just like the ones in TRON: Legacy. They don't leave a trail of light or anything like that, and it doesn't look like they can actually turn, but they're tangible and not on The Grid so that's good enough for us. Oh, and you can buy one if you have $55,000 to spare.
Please note the photo above is not of the actual bike. You'll have to hit the jump to see a video of these babies in action as well as read all their vital statistics.
A ton of sites have written about this, but it seems that Wired was the first. Here's the video. Definitely turn down your volume.
Wired spoke with Jeff Halverson who works at Parker Brothers and he gave a bunch of stats on the bikes. Apparently it's a steel frame with fiberglass body and a "V-twin engine from a Suzuki TLR1000." The brakes are "a custom made friction drum" and if you buy the bike, customers can choose between actual gauges and an iPad touchscreen. Also, if anyone doesn't take the iPad, they are stupid.
The Light Cycle weights a whopping 474 pounds, is about 100 inches long and 23 inches wide. Riders are just about 28.5 inches from the ground. However, it's not a licensed replica. "We basically used the images we could get off the web in order to make the bike," Halverson told Wired. "Keep in mind, no one ever made this bike before."
You might remember Parker Brothers because they made a replica of the Bad Pod from The Dark Knight a few years ago, but got in trouble from Warner Brothers and ended up selling it in a raffle. And if you'd like to purchase a TRON Light Cycle, there were four left as of the beginning of the week. Visit the official Parker Brothers site for contact info.
Though there is a whole bunch of TRON: Legacy merch coming out, I think we can all agree this is by far the best thing, right? I can't believe Disney didn't think of this.