Noah Baumbach's 'While We're Young' To Star Ben Stiller And James Franco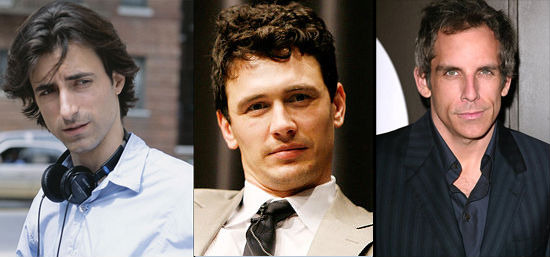 Fresh off the welcome Spirit Award nominations for his latest film, Greenberg, writer/director Noah Baumbach will once again team with Ben Stiller, along with Oscar host James Franco, for a film called While We're Young. It's about how a hip, young, Brooklyn couple inspires an uptight documentary filmmaker and his wife to loosen up. Franco would be the young man with Stiller playing the filmmaker and offers are apparently out to Greenberg co-star Greta Gerwig and Cate Blanchet for the female leads, though neither has officially signed. Read more after the break.
Over the past few months, Baumbach has been attached to a whole bunch of projects. He's supposed to be co-producing Peter Bogdanovich's Squirrel to the Nuts with Wes Anderson and he was rumored to be working on Mr. Popper's Penguins with Ben Stiller. Not to mention he was attached to direct The Emperor's Children for Brian Grazer and did some writing on Madagascar 3 (another Stiller project) as well as Brett Ratner's currently shooting Tower Heist.
But, according to Vulture who broke the story, While We're Young would most likely be next. Scott Rudin will produce.
If it all comes to fruition, this certainly sounds like a film that is right in Baumbach's wheel house. An amalgamation of the New York, parental angst in The Squid and the Whale – the older couple – with the quarter-life crisis lifestyle of Greenberg – the younger couple. It's almost a Baumbach battle royale.
But really, we know what you're thinking. Where's Baumbach's lady friend Jennifer Jason Leigh? Well, reportedly she filed for divorce from the director just last week so chances are she isn't going to be a part of the film.
Do you like the pairing of Baumbach with Stiller and Franco? What about with Blanchet and Gerwig in the mix?