Nicolas Cage Talks Enthusiastically About His 'Ghost Rider: Spirit Of Vengeance' Directors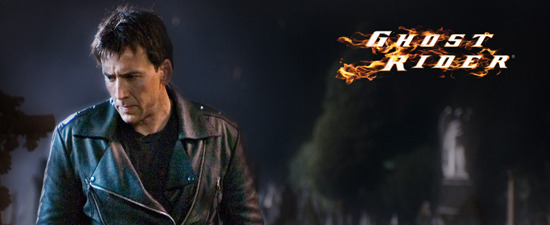 Nicolas Cage is doing press for his delayed film The Season of the Witch a month before it opens on January 7, presumably to avoid the holiday season crush. Inevitably, during a couple interviews he's talked about the sequel to Ghost Rider, Ghost Rider: Spirit of Vengeance, which is currently in production with Mark Neveldine and Brian Taylor (Crank, Crank 2, Gamer) directing.
Nic Cage said almost exactly the same thing in a couple interviews. To io9 he explained the broad overview of this sequel:
It is a completely different film. The first one, which I won't denigrate — I liked the first one, but it was almost like a fairy tale. Almost like a Disney fairy tale interpretation of Faust. This one is completely re-conceived, it's not even connected to the first one, it's a different origin sequence. But I think it will be a brand new experience. It has more adrenaline involved in the film making process itself, and in the movie when you see it. Again, I think the stuff we're able to get into with Ghost Rider is going to be a lot more abstract and not like anything you've seen before.
That last sentence presumably refers to the fact that Cage will be playing both the human Johnny Blaze and his fiery demonic alter-ego. (Rather than having a stuntman and/or CGI character.)
And to Collider he explained:
I'm really enjoying my experience with Mark Neveldine and Brian Taylor. They're not like anybody I've worked with before. They're total originals. Mark Neveldine is doing things with the camera that are just brand new. He's on rollerblades. He's hanging off of wires at 300 feet. He's just doing things that are combination stuntman and camera operator/director that are quite shocking and quite risky. And Brian Taylor is just a philosopher when it comes to movies. You can talk to him about Michael Powell's Peeping Tom, and you can go into Ishiro Honda's The War of the Gargantuas, in the same sentence.
To io9 the actor also explained that this time the film might be a conduit for a lot more of his particular brand of crazy — something I hoped would be the case as soon as Neveldine and Taylor signed on:
[Johnny Blaze has] become a lot more sarcastic, now that his head has been ignited. Unlike the first one where he was trying to keep it at bay. Now he's been living with the Ghost Rider for some time, there's a lot more irony with the character. His outlook isn't as quite naive as it once was.
The synopsis:
Johnny Blaze, aka Ghost Rider (Nicolas Cage), is hiding out in remote Eastern Europe and struggling to repress his curse. Blaze is recruited by a sect to take on the devil, who wants to take over his mortal son's body on the boy's birthday.
Ghost Rider: Spirit of Vengeance began shooting in November and is scheduled to roll through February. It is scheduled for release on February 17, 2012