Video Blog Reaction: Coen Brothers' True Grit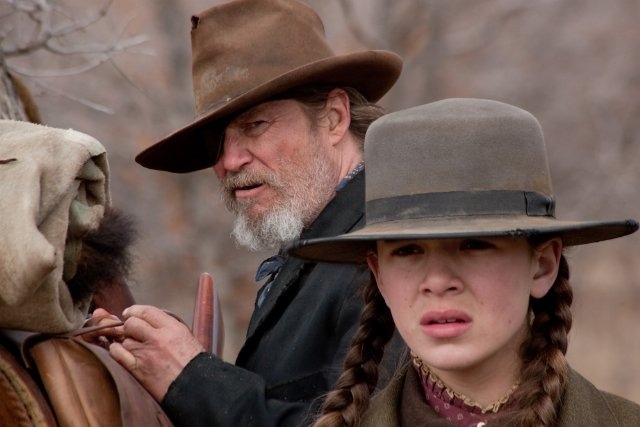 Last week I had the awesome opportunity to screen the Coen Brothers newest film, a big screen adaptation/remake of True Grit. For those of you who haven't seen the trailer (and if you haven't seen the trailer — click here now!), the western stars newcomer Hailee Steinfeld as a spitfire 14-year-old farm girl named Mattie who sets out to capture the man who murdered her father. To aid her in her adventure, "she hires the toughest U.S. marshal she can find, a man with "true grit," Reuben J. "Rooster" Cogburn" (played by Jeff Bridges).
The movie doesn't come out until the end of this month, so I decided against doing a full proper review and instead record a shorter video reaction piece. After this film is released, I'm sure we'll have a couple in-depth reviews and probably a lengthy analysis on the /Filmcast. But for now I just wanted to go the spoiler free broad strokes route.
Our plan was to record a short five minute video blog giving our brief reaction and thoughts about the film. But If you've ever watched one of the video blogs Frosty from Collider and I record together, then you know we are unable to keep things short. The result is a ten minute video blog reaction. It's still spoiler free, a broad overview of our thoughts. You can watch/listen to it now, embedded after the jump.
Official Plot Synopsis:
Fourteen-year-old Mattie Ross's (Hailee Steinfeld) father has been shot in cold blood by the coward Tom Chaney (Josh Brolin), and she is determined to bring him to justice. Enlisting the help of a trigger-happy, drunken U.S. Marshal, Rooster Cogburn (Jeff Bridges), she sets out with him — over his objections — to hunt down Chaney. Her father's blood demands that she pursue the criminal into Indian territory and find him before a Texas Ranger named LeBoeuf (Matt Damon) catches him and brings him back to Texas for the murder of another man.
True Grit opens on December 22nd 2010.