New Posters: 'Rabbit Hole,' 'The Adjustment Bureau' And 'I Am Number Four'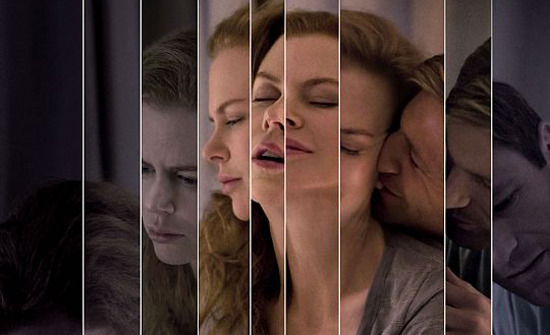 There are new posters for three films today: indie and festival darling Rabbit Hole gets a new one-sheet that is very different from the last, while delayed thriller The Adjustment Bureau and I Am Number Four both get their own new images. See 'em all after the break.
If you didn't like the slightly cheeky one sheet that debuted not long ago for John Cameron Mitchell's Rabbit Hole, Cinematical has a new, much more serious one. With fractured images of Nicole Kidman and Aaron Eckhart, call this the Black Swan remix of a few stills from the film. I like it. The film opens limited on December 17.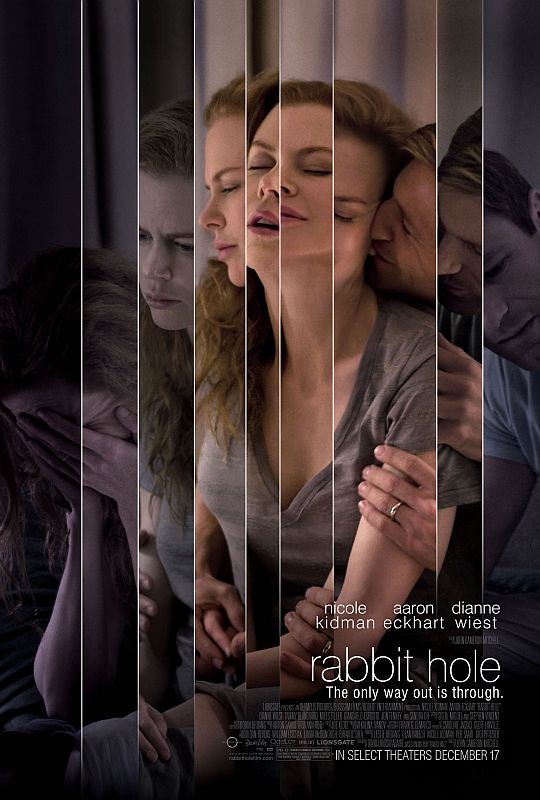 RABBIT HOLE is a vivid, hopeful, honest and unexpectedly witty portrait of a family searching for what remains possible in the most impossible of all situations. Becca and Howie Corbett (NICOLE KIDMAN and AARON ECKHART) are returning to their everyday existence in the wake of a shocking, sudden loss. Just eight months ago, they were a happy suburban family with everything they wanted.  Now, they are caught in a maze of memory, longing, guilt, recrimination, sarcasm and tightly controlled rage from which they cannot escape.   While Becca finds pain in the familiar, Howie finds comfort. The shifts come in abrupt, unforeseen moments.  Becca hesitantly opens up to her opinionated, loving mother (DIANNE WIEST) and secretly reaches out to the teenager involved in the accident that changed everything (MILES TELLER); while Howie lashes out and imagines solace with another woman (SANDRA OH). Yet, as off track as they are, the couple keeps trying to find their way back to a life that still holds the potential for beauty, laughter and happiness.  The resulting journey is an intimate glimpse into two people learning to re-engage with each other and a world that has been tilted off its axis.
Here is the US one-sheet and a UK quad (via Empire) for The Adjustment Bureau, for which we've been waiting for a very long time. We saw the slightly underwhelming trailer way back in May of this year, and the film was pushed back from a summer opening to September and then March 2011.
In other words, despite  being sourced from a Philip K Dick story and featuring a great cast (Matt Damon, Emily Blunt, Anthony Mackie and Shohreh Aghdashloo) don't get your hopes up. Or perhaps I should say, given the track record of his adaptations, don't get your hopes up because this is based on a Philip K. Dick story.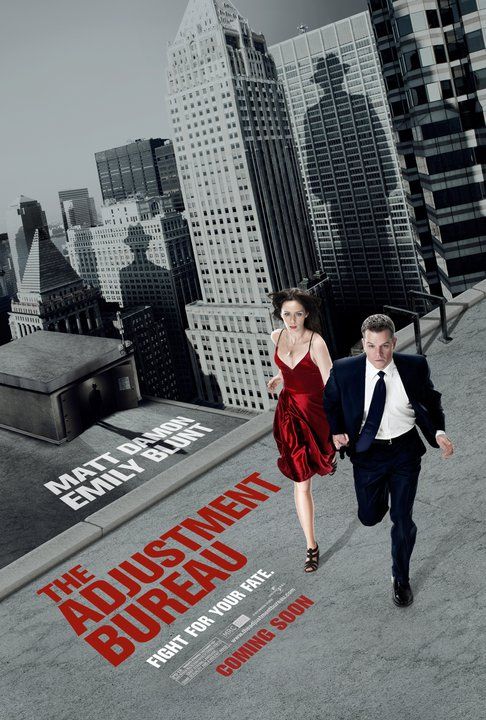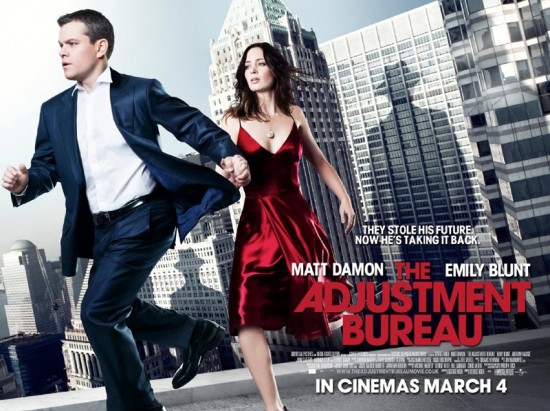 George Nolfi directed The Adjustment Bureau, which opens in the US on March 11, 2011 and seven days earlier (as the poster above says) in the UK.
On the brink of winning a seat in the U.S. Senate, ambitious politician David Norris meets beautiful contemporary ballet dancer Elise Sellas — a woman like none he's ever known. But just as he realizes he's falling for her, mysterious men conspire to keep the two apart. David learns he is up against the agents of Fate itself — the men of The Adjustment Bureau — who will do everything in their considerable power to prevent David and Elise from being together. In the face of overwhelming odds, he must either let her go and accept a predetermined path... or risk everything to defy Fate and be with her.
Finally, here's the poster for I Am Number Four, which looks like it was made by a big fan of Sony's video game inFamous. Blue/orange nitpickers...go!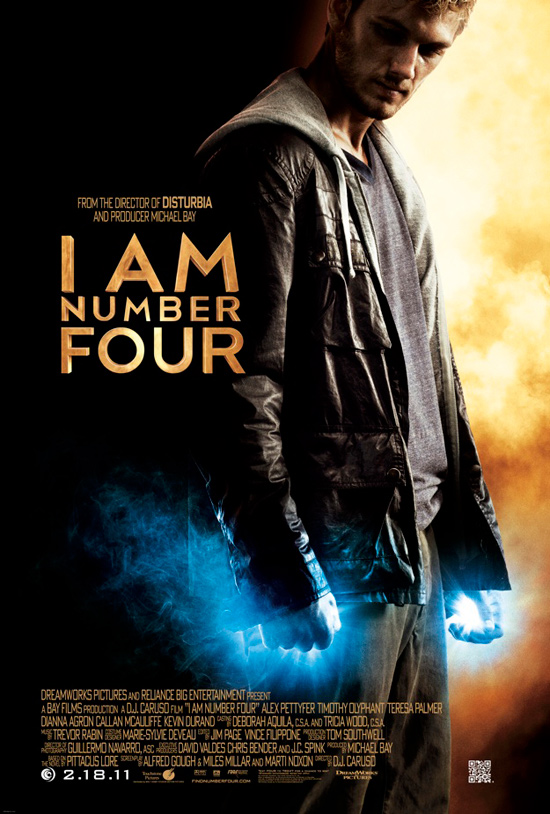 Three are dead. Who is Number Four? D.J. Caruso (Eagle Eye, Disturbia) helms an action-packed thriller about an extraordinary teen, John Smith (Alex Pettyfer), who is a fugitive on the run from ruthless enemies sent to destroy him. Changing his identity, moving from town to town with his guardian Henri (Timothy Olyphant), John is always the new kid with no ties to his past. In the small Ohio town he now calls home, John encounters unexpected, life-changing events-his first love (Dianna Agron), powerful new abilities and a connection to the others who share his incredible destiny.
I Am Number Four releases on February 18th, 2011 and stars Alex Pettyfer, Timothy Olyphant, Jake Abel, Kevin Durand, Dianna Agron, Teresa Palmer, Callan McAuliffe. The film is directed by D.J. Caruso.