Oscar Finalists Announced For Animated And Live-Action Shorts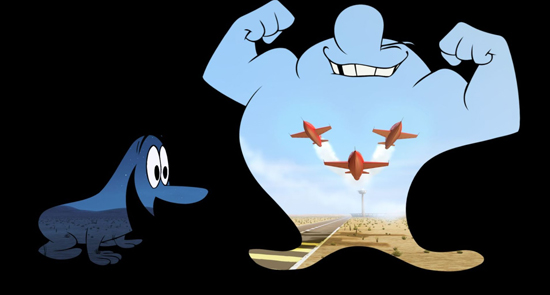 Awards season is definitely upon us, with the Gotham awards and Independent Spirit nominations kicking things off. Now the Academy of Motion Picture Arts and Sciences has announced the shortlist of ten animated and live-action shorts that will be considered for Oscar nominations. Three to five nominees will be selected from each category, and the nominations will be announced along with all the other Oscar nominations on January 25 2011.
Check out the full list of c0ontenders after the break. The 83rd Academy Awards will take place on February 27, 2011, hosted by James Franco and Anne Hathaway.
The animated shorts:
"The Cow Who Wanted to Be a Hamburger," Bill Plympton, director (Bill Plympton Studio)
"Coyote Falls," Matthew O'Callaghan, director and Sam Register, executive producer (Warner Bros. Animation Inc.)
"Day & Night," Teddy Newton, director (Pixar Animation Studios)
"The Gruffalo," Jakob Schuh and Max Lang, directors (Magic Light Pictures)
"Let's Pollute," Geefwee Boedoe, story-design-animation (Geefwee Boedoe)
"The Lost Thing," Shaun Tan and Andrew Ruhemann, directors (Passion Pictures Australia)
"Madagascar, Carnet de Voyage (Madagascar, a Journey Diary)," Bastien Dubois, director (Sacrebleu Productions)
"Sensology," Michel Gagne, director-producer (GAGNE International LLC)
"The Silence beneath the Bark," Joanna Lurie, director (Lardux Films)
"Urs," Moritz Mayerhofer, director (Filmakademie Baden-Wuerttemberg)
The live action shorts:
"Ana's Playground," Eric D. Howell, director (StoryForge, LLC)
"The Confession," Tanel Toom, director (National Film and Television School)
"The Crush," Michael Creagh, director (Purdy Pictures)
"God of Love," Luke Matheny, director (Luke Matheny)
"Na Wewe," Ivan Goldschmidt, director-producer (CUT!)
"Seeds of the Fall," Patrik Eklund, director, and Mathias Fjellstrom, producer (Direktorn & Fabrikorn)
"Shoe," Nick Kelly, director, and Seamus Byrne, producer (Zanita Films)
"The Six Dollar Fifty Man," Mark Albiston and Louis Sutherland, directors (Sticky Pictures Ltd.)
"Sma Barn, Stora Ord (Little Children, Big Words)," Lisa James Larsson, director and Andreas Emanuelsson, producer (Bob Film Sweden AB)
"Wish 143," Ian Barnes, director, and Samantha Waite, producer (Swing and Shift Films/Union Pictures)