TV Bits: 'Dexter' Gets A Sixth Season; 'Burn Notice' Prequel; Two More Join 'Alcatraz'; 'The Walking Dead' Fires Writers; Kevin Williamson Developing 'Vampire Diaries' Companion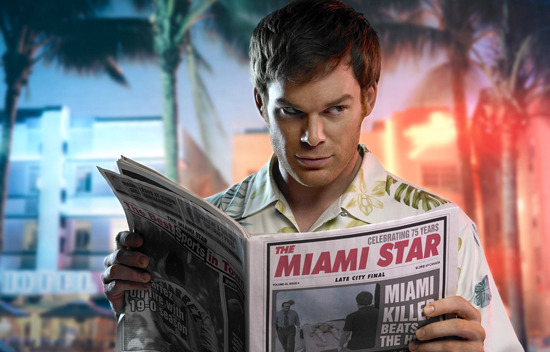 There's a great deal of small TV news to round up, so let's get to it. First off comes the news that Dexter has been given a sixth season renewal. The last time the show was up for renewal was in 2008, when Showtime committed to a fourth and fifth season. E! suggested that a one-season order now is due to cast contract renegotiations that will take place before a seventh season. I never would have expected the show to run quite this long, but the numbers are improving, with this Sunday's episode grabbing the show's best ratings ever. So: onward to season six!
After the break, news on the surprise fate of the writing staff of The Walking Dead, the prequel movie for Burn Notice, and more casting for J.J. Abrams' Alcatraz.
The Burn Notice prequel movie is going forward, with Bruce Campbell reprising his role of Sam Axe. Matt Nix is writing and exec producing; Jeffrey Donovan will direct the film in January on location in Bogota, Colombia, and the two-hour film is planned to air in Spring 2011 on USA.
The press release says,
The prequel, set in late 2005, begins after a faction of Colombian rebels makes trouble for the locally stationed military platoon, with Lieutenant Commander Sam Axe (Campbell) being sent down to advise. As the mission unfolds, Sam begins to uncover the dark secrets of the area, learning the truth about sacrifice, deception, and ultimately what's worth fighting for.
The J.J. Abrams-produced show Alcatraz already has Jorge Garcia (Lost) and Sarah Jones (Sons of Anarchy) on board as part of the cast that will investigate prisoners and who disappeared from the famous prison and reappeared in the present day. Now Jonny Coyne (Undercovers) and Jason Butler Harner (Fringe) have signed on as well. Coyne will be Alcatraz warden Edwin James. Harner will be associate warden E.B. Tiller, "who enjoys and abuses his power," according to Deadline.
Kevin Williamson's The Vampire Diaries is doing quite well (and frequently shooting within eyeshot of my typical work location); now the writer/producer is in the early stages of development on a companion series for The CW which is being called "The X-Files meets Buffy the Vampire Slayer." What the hell does that mean? Could be anything, right? Vampires investigating crimes? A secret agency unit investigating vampires? Those seem the most likely options, but we don't know. This has a long way to go — there's no script at this point — but we'll keep an eye open for news. [THR]
Finally, there's weird news about The Walking Dead. The entire season one writing staff has been let go, and the second season will be written by freelancers. Producer Frank Darabont dropped the axe, and it's an interesting move, since he's written, co-written or rewritten each of the first-season episodes. There is no shortage of commentary about whether this movie is a good one, but it isn't unprecedented. UK shows (including Torchwood) use freelancers rather than a writing staff as a slightly more common occurrence than is the case here. Difficult to say whether this will be a good thing for the second season without knowing what writers will get the nod to pen some of those thirteen episodes.
Television has seen a few notable successful control freaks come and go (Aaron Sorkin, David Milch, David Kelley, J. Michael Straczynski) but is Frank Darabont at that point? I've seen only the first two Walking Dead episodes, but know there has been criticism of the scripting, specifically for a couple characters such as Merle and T-Dog. Seems like this move implicitly places the blame for some percieved shortcomings on the writing staff. But if Drank Darabont has been the most consistent controlling hand, what does that really mean? [Deadline]