Double Dose Of Greedo: High Heels Photo And Mondo Tees Poster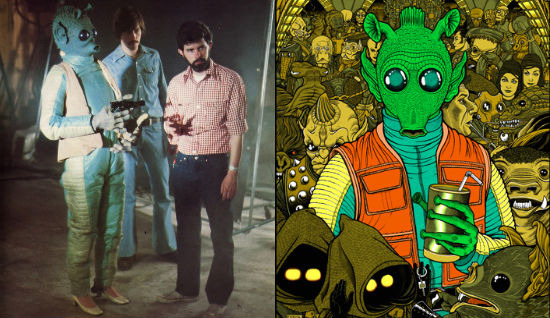 Apparently, late November means it's all about Greedo. The Rodian bounty hunter who hung out with Anakin Skywalker on Tatooine as a kid and famously got blown away by Han Solo in Mos Eisely (or maybe shot first, depending on your age) has become something of a meme in recent days. First, there's an on set photo making the rounds that shows the green bounty hunter wearing high heels on the set of Star Wars Episode IV: A New Hope alongside director George Lucas, plus he's also the main subject of the latest Mondo Tees Star Wars poster which is slyly called Han Shot First. Check out both images in their full glory after the jump.
Here's the WTF on set photo of Greedo which we found on Reddit.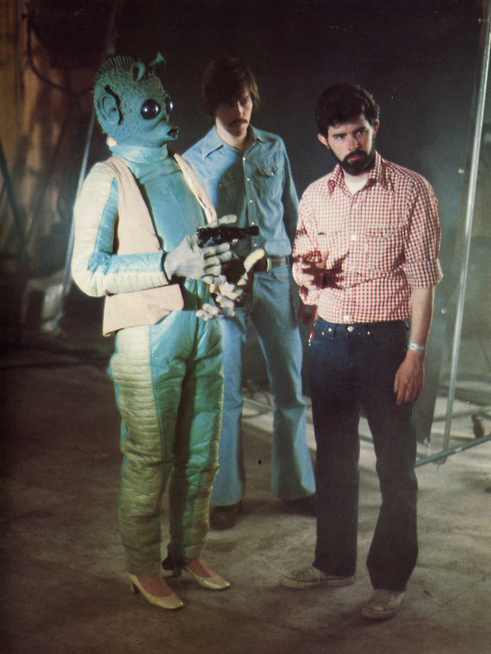 According to Geeks of Doom, Greedo was played by two actors in A New Hope, one of which was Maria De Arago, who sometimes does signing at conventions. Chances are, this is her in the photo. But why wear high heels on set? Wouldn't you want to be comfortable when you get killed? Chances are we'll never know.
Also, the latest Mondo Tees Star Wars print goes on sale Thursday December 2 at a random time. It's a 400 print limited edition 24" x 34" screen print by Florian Bertmer called Han Shot First. They cost $50 a piece. Follow @MondoNews for the announcement. Here's the poster. Click it for the high resolution version.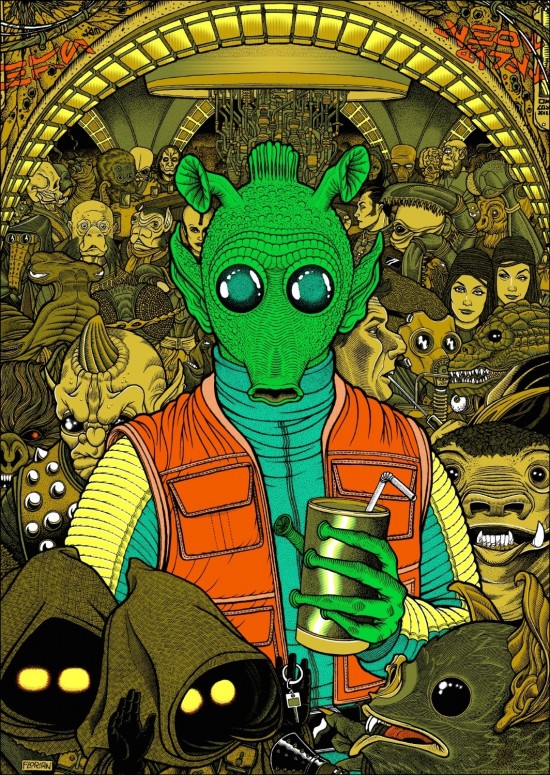 Why do you all think Greedo has become a bit of a superstar in recent days?