Halle Berry Says The Wachowskis' 'Cloud Atlas' Should Shoot Summer 2011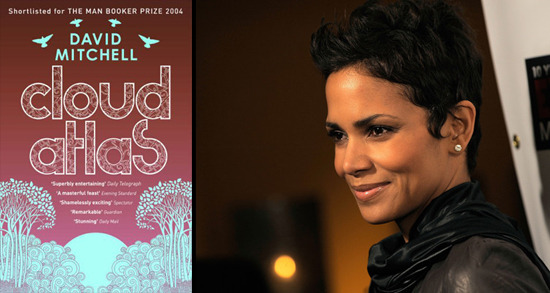 Over the past year, there has been a low murmur of news about an adaptation of the David Mitchell novel Cloud Atlas. Tom Tykwer (Run Lola Run, The International) has been writing, possibly with the intent to direct, and the Wachowski siblings have been linked as producers. Offers reportedly went out to Tom Hanks, Halle Berry, James McAvoy, Ian McKellen and Natalie Portman to play major roles.
Now Halle Berry says the film is shooting next summer, but does her statement clarify or confuse the issue about who is actually making the film?
A Natalie Portman fansite (via The Playlist) reports that, at a Q&A following her film Frankie & Alice, Halle Berry said,
I'm going to do a movie probably in the summer with the Wachowskis.....A really interesting movie [that is] sort of [like] what they did for 'The Matrix,' they have another really amazing idea that's sort of gonna stretch our brains even further. And so I'm really excited about that and that's probably gonna be in the summer. And that's with Tom Hanks and Natalie Portman.
(video below)
This is the first definitive statement we've had about the movie in months. But will the Wachowskis direct, and if so what is the status of their planned film Cobalt Neural 9? That was the movie called their 'gay Iraq war love story,' and it sounded almost intentionally button-pushing. In other words: difficult to finance.
In September there was a report that suggested the Wachowskis might direct Cloud Atlas themselves, given the difficult nature of CN9. This comment from Halle Berry suggests that is what will happen, but we don't have confirmation at this point.
Her comment also goes a long way towards confirming Tom Hanks and Natalie Portman. We'll have to see about James McAvoy and Ian McKellan, though the latter may be busy with The Hobbit.
Previously, from Peter:
The book is comprised of six separate but loosely connected stories that take us from the remote South Pacific in the nineteenth century to the far future after a nuclear apocalypse. Each tale is told from the point of view from the the main character in the next. It's unclear if Tykwer is focusing on one, a couple or all of the stories. I cant imagine that a film adaptation would feature all six stories as the narrative would become too episodic. And each story is a vastly different genre than the next, spanning post-apocalyptic sci-fi to modern comedy. The author has said that the book's theme is predacity — individuals prey on individuals, groups on groups, nations on nations.