'Tron Legacy' Director Joseph Kosinski Talks Extensively About Daft Punk's Score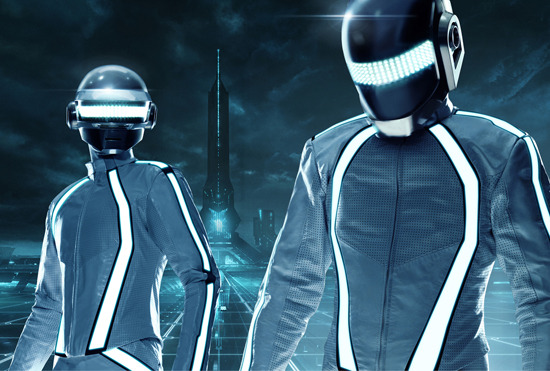 It's been about ten minutes since we had some Tron Legacy content on the site, so it's high time for a bit of new stuff. But this is a little different, and quite cool. Jason Bentley, host of the 'Morning Becomes Eclectic' show on famed radio station KCRW and music director for the station, also works as a music supervisor on films, commercials and video games. He took part in the process that brought electronic duo Daft Punk into the Tron Legacy family.
Now he has talked with Tron Legacy director Joseph Kosinski about how the band became involved with the film, and how a set of twenty-four early demos mutated into the score you'll hear in the finished product. Their conversation is available in part as a set of video clips, and you can see them all below.
KCRW presents this extended conversation as a long transcript and set of videos. There's a great deal of detail here about how the score came to be, from gestation to how specific tracks were worked into the whole, and then the mixing process. But some of the best information comes from audience questions. While you read this transcript, check out the extended score preview on MySpace.
Asked about the process of translating Daft Punk's music to the orchestrated score, Orchestrator Joseph Trapanese pipes up:
It seems complicated at the end of the day, but it's actually quite simple.  I was locked in a room with robots for almost two years and it was simply a lot of hard work.  We were just together working throughout the whole process and there was never a point where the orchestra was not in their minds and the electronics were not in my mind.
When asked if there was any blurring of the line between mixing the sound effects and score, Joseph Kosinski says,
Yeah we did some of that with the light cycles, we actually tuned the frequencies of the bikes in with the key of the score.  We were always cognizant of that with a lot of the environmental sounds in scenes before the score comes in that we would tune either the room tone, or the sound of the vehicle or the sound of the atmosphere into the key that the score would eventually come in to so that it all came out of that sound bed.  That was something we talked about from the very start and because we started so early we were able to plan that.
And, while I know a lot of people are hopeful, it sounds as if we shouldn't expect any live Daft Punk Tron performances any time soon, according to Jason Bentley:
I think they really wanted the music to speak for itself, married to picture.  They're very uncomfortable with any playback without it being to picture because they respect the whole process of scoring.  So there's no ill will there, it's just they are so particular in their process. ...Who knows maybe in the new year?  I mean it's really up to them but they just need to think it through.  And as we know, it takes time.