First Look: Kirsten Dunst In Carlos Cuarón's 'The Second Bakery Attack'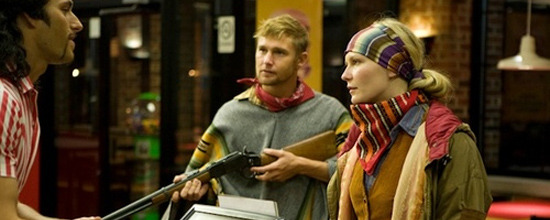 Carlos Cuarón, brother of director Alfonso Cuarón, co-writer of Y Tu Mamá También and writer/director of Rudo Y Cursi, has directed a new short film. The Second Bakery Attack is based on the story of the same name by Japanese author Haruki Murakami, and stands as one of a very few adaptations of the author's works. The film stars Kirsten Dunst and Brian Geraghty, and these are the first stills.
Stills were found on Tumblr (via The Playlist) and the director told CNN,
It's short, but there's meticulous attention to detail just like a Murakami story! ...To me, Murakami's works are universal, and at the same time very Japanese. This is what makes the project so intriguing for me — I did set the story in the United States but the tone of the conversations, the situation ... somehow it's very Tokyo.
The Short Shorts Film Festival synpopsizes the film like so:
Nat and Dan are recently married, but they just had their first fight. An overwhelming hunger keeps them both awake one night. What can they do to quell their hunger and save their marriage?
The short story was originally published in Playboy and appears in the collection The Elephant Vanishes. You can read it here. Haruki Murakami's novels and short stories trade in a sort of heightened reality that has always seemed difficult to capture on film. There is an emotional and interior core to his writing that suggests some of the approach seen in David Lynch films, but has its own character. I've only seen one other adaptation (the good feature Tony Takitani by Jun Ichikawa) and have waited, with no small trepidation, for the adaptation floodgates to open.
That might happen soon. Alongside The Second Bakery Attack, Vietnamese director Tran Anh Hung (The Scent of Green Papaya) has the highest-profile Murakami adaptation of the year, with Norwegian Wood, opening in some markets in December. The film adapts the author's first blockbuster, which was his first novel to receive international attention.