TV Trailer And Photo Gallery: 'Game Of Thrones'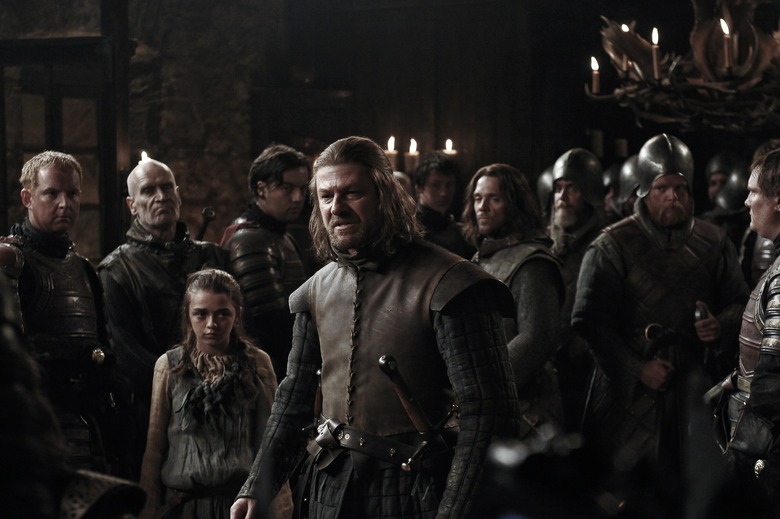 The
we've seen so far for the HBO series adaptation of George R.R. Martin's Game of Thrones showed very little. What we did see had the color bled out to fit the dour tone of each teaser, and while the brief images were tantalizing, there was no way to get a real sense of how the series might play. So this new trailer is the first finished footage we've seen to complement the colorful behind the scenes clips doled out sporadically over the past months. Check it out after the break.
I haven't read the books upon which this series is based, but I do know that they're sprawling epics. This trailer doesn't quite get that across, and watching it I feel like the footage is curiously and worryingly a bit flat. I'm hoping that's just me, coming into the series with no real prior knowledge of the story. Because the pilot was directed by Thomas McCarthy (The Station Agent, The Visitor) which is as good a reason for excitement as any. Writers David Benioff (also producing the series) and D.B. Weiss have previously made a case for HBO as the ideal home for adult fantasy, and that's difficult to argue.
And the cast is great: Sean Bean, Peter Dinklage, Iain Glen, Lena Headey and many more. The creative lineup here is all one could ask for out of an adaptation for an imposing fantasy series, so I'm hoping any worries are for naught. In this case, too, I'm more convinced by the still photos than the footage.
Here's the official rundown of the first novel:
Long ago, in a time forgotten, a preternatural event threw the seasons out of balance. In a land where summers can last decades and winters a lifetime, trouble is brewing. The cold is returning, and in the frozen wastes to the north of Winterfell, sinister and supernatural forces are massing beyond the kingdom's protective Wall. At the center of the conflict lie the Starks of Winterfell, a family as harsh and unyielding as the land they were born to. Sweeping from a land of brutal cold to a distant summertime kingdom of epicurean plenty, here is a tale of lords and ladies, soldiers and sorcerers, assassins and bastards, who come together in a time of grim omens. Here an enigmatic band of warriors bear swords of no human metal; a tribe of fierce wildlings carry men off into madness; a cruel young dragon prince barters his sister to win back his throne; and a determined woman undertakes the most treacherous of journeys. Amid plots and counterplots, tragedy and betrayal, victory and terror, the fate of the Starks, their allies, and their enemies hangs perilously in the balance, as each endeavors to win that deadliest of conflicts: the game of thrones.