'Zombieland 2' Is Cameo Hunting; Plus Early Plot Hints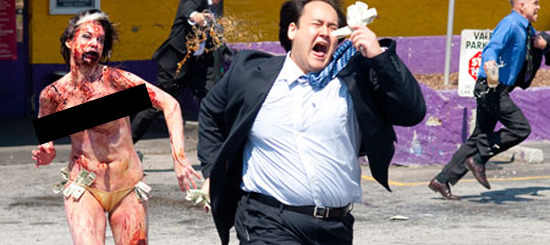 [Editor's note: The following article debatably contains a spoiler for the original Zombieland.]
It's not crazy to surmise that Zombieland went from good to great when Bill 'Ghostbustin" Murray hit the screen. His cameo in the Ruben Fleischer directed, Rhett Reese/Paul Wernick horror comedy took an entertaining film to a whole new level because it was so totally unexpected and funny. Well, as is the case with any sequel, the surprises are going to be tougher to come by this time around. Reports are coming in that the new script for Zombieland 2 features another "superstar cameo." And while Reese and Wernick currently have their hands full with various projects and Fleischer himself has one film coming out with another in development, there's no word on when that role will be filled. Hit the jump for a few names on the wish list in addition to some other early hints of what to expect from Zombieland 2.
The report in question comes from Bloody Disgusting and they're reporting that names like Harrison Ford and Anthony Hopkins are being thrown around for the cameo. Ford would obviously be on the top of anyone's wish list and with his recent resurgence, maybe it's even doable. And one would imagine if Hopkins took the part, he's probably assume his most famous role as Dr. Hannibal Lecter. That character as a zombie would be perfect.
The Bloody Disgusting report also states that the film calls for "a lead villain with comedic roots" and that Woody Harrelson's character Tallahassee will "find himself going head-to-head with a 'hunky rival.'" Finally, they report that only Jesse Eisenberg has officially re-signed for the film, so until they can get rising stars like Emma Stone back in the mix, Zombieland 2 is still a way's away.
It's no surprise that Sony would want to duplicate the winning formula from the first Zombieland and that cameos would be a part of that. But wasn't the fun of the Murray cameo that we knew nothing about it? Will you search out the "superstar cameo" this time around or hope to be surprised when the lights go down?