Stephen King's Top 10 Films Of 2010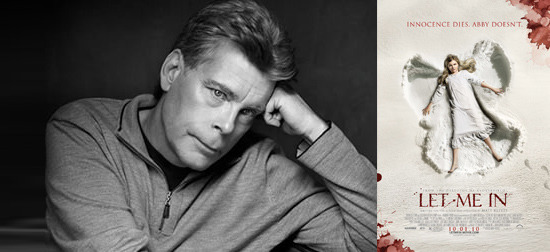 I don't always agree with best-selling author Stephen King's opinions, but I still love reading his thoughts about the film world. King has published his annual listing of the top 10 films of the year in the latest issue of Entertainment Weekly.
His 2008 list included Death Race, Lakeview Terrace and The Ruins. In 2009, King agreed with the mainstream critics in naming The Hurt Locker as the best film of the year, but the rest of his list was the opposite of conventional – for example, #2 is The Last House on the Left, which he claims is "on par with The Silence of the Lambs" and "easily the most brilliant remake of the decade." Other films included District 9, The Taking of Pelham 1 2 3 and 2012.
Which films did he choose for his best of 2010 list? King picked Matt Reeves' Let Me In as his #1 film of 2010 declaring it "the best horror film of the decade." Hit the jump to see the full list in brief.
10. Green Zone – "one Iraq war movie that puts story and suspense above shrill outrage."
9. Jackass 3D
8. Monsters
7. Splice
6. Kick-Ass
5. Takers – "This satisfyingly complex cops-'n'-robbers movie features great performances ... and the armored-car heist is the best action sequence I've seen this year."
4. The Social Network – "succeeds where Michael Douglas; Wall Street sequel fails."
3. Inception
2. The Town – "Bad title, fantastic movie. ... a strangely intimare film"
1. Let Me In
You can read the full list complete with detailed explainations is included in King's The King of Pop article in the latest issue of Entertainment Weekly (the one with Walking Dead on the cover). The article is not yet published online, so you'll have to buy it at the newsstand to check it out.