First Official Look: Robert Downey, Jr., Noomi Rapace And Jude Law In 'Sherlock Holmes II'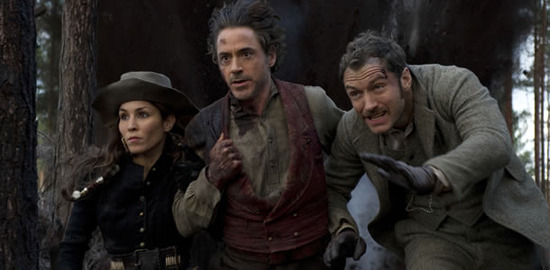 This is somewhere between a new image and a first look at Sherlock Holmes II. We've seen set photos of Robert Downey, Jr. and Jude Law in the Guy Ritchie-directed sequel to last year's action revival of Sherlock Holmes. But this is the first official still photo, and also the first image of Noomi Rapace (The Girl With the Dragon Tattoo) in her first American studio role.
We don't know much about the film other than the fact that the core duo of Sherlock and Watson are once again played by Robert Downey, Jr. and Jude Law, and that Noomi Rapace plays a French gypsy encountered by the characters. Stephen Fry will show up as the elder Sherlock, Mycroft, and Jared Harris plays Professor Moriarty, the arch-nemesis of Sherlock Holmes. (I still love that casting choice.)
There was word that Rachel McAdams might reprise her role as well, but the current official info from Warner Bros. doesn't list her, and last time she spoke up she didn't even know if she was in the film. So for right now don't bet on any more than a cameo, if she's in the film at all.
Sherlock Holmes II hits theaters on December 16, 2011.
[ROS]