Michael Caine Says 'The Dark Knight Rises' Shoots In May 2011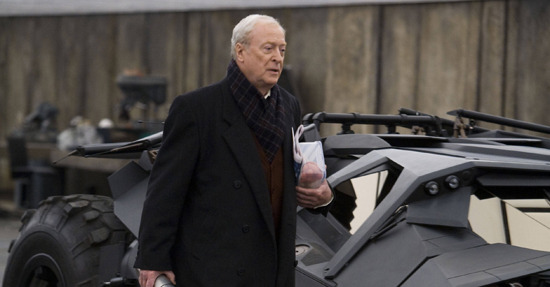 Many people have a friend to whom they slip information when they want that info spread out to the community at large. The talkative one, if you will. For Christopher Nolan, that friend might be Michael Caine. The actor has been the source of a great deal of possibly-true statements about the next Batman film, and now he has delivered what certainly sounds like a reliable nugget of info about when The Dark Knight Rises will shoot, and for how long.
Asked about the project by Empire, Sir Caine said,
Emma [Thomas], the producer, said we'd get the script in January. Christopher said: 'Script in January, shoot in May, finish in November.'
Doesn't get much more straightforward than that. Granted, this is also the man who says, in the same conversation, "Christopher is the most secretive guy in the world," and that the director won't really let anything slip. Actually, Michael, that might just be his approach with you because, y'know, you tell us all that stuff.
Anyway. We'd previously heard the film would shoot in April, and a May-November shoot would give Mr. Nolan more than six months to tinker in post before the scheduled opening on July 20, 2012. And while the May-Nov shoot schedule seems long, it approximates what was done for The Dark Knight, which bounced between cities like Chicago, Hong Kong and London during that film's shoot between April and November of 2007.
We don't know what locations The Dark Knight Rises will use, though New Orleans has been rumored, and we'd expect at least some of the picture to again be shot in Chicago, which has stood in for much of Gotham City. But cinematographer Wally Pfister recently dismissed the idea of New Orleans at the same time he said the film likely would not be shot entirely in IMAX.
Meanwhile, casting speculation continues. We know Michael Caine and Christian Bale will return, we can reliably expect Gary Oldman to return, and Tom Hardy has been cast in a role that has been the source of much speculation. There is a reported actress shortlist for two key roles, one love interest and one villain, but that info may not be correct, either. If the script isn't due until January, it may be a couple more months before any reliable info really drops.