Movie Trailer: Family Guy: It's A Trap!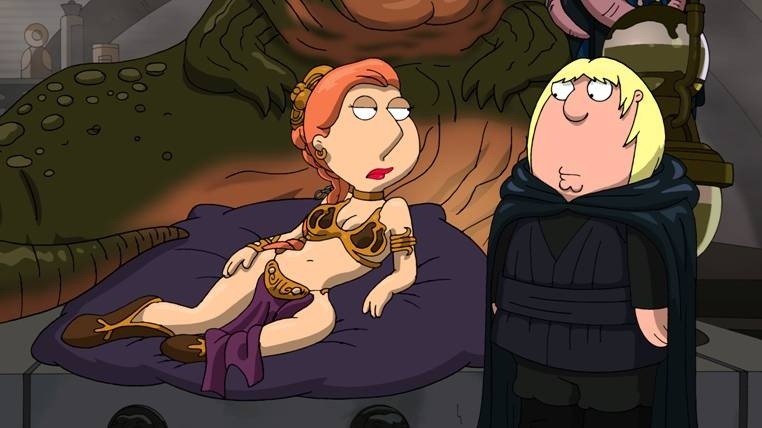 We may receive a commission on purchases made from links.
20th Century Fox has released the movie trailer for Family Guy's Return of the Jedi parody Family Guy: It's a Trap! premiered today online. Once again, the trailer is a nearly exact remake of the original trailer from the 1983 classic Return of the Jedi. Watch it now embedded after the jump.
The DVD is available for preorder for $15.99 or $19.99 on Blu-Ray.
It's a Trap! Movie Trailer:
Here is the press release for the special:
FEEL THE FARCE AS "FAMILY GUY" SKEWERS STAR WARS™ WITH ITS THIRD UNCENSORED SATIRE ON BLU-RAY AND DVD DECEMBER 21
Return to the Grffins' version of that galaxy far, far away as their freakin' sweet saga continues with "Family Guy: It's A Trap!" – arriving exclusively on Blu-ray and DVD December 21 from Twentieth Century Fox Home Entertainment. In the third installment of the hilarious Star Wars satire – following 2005's "Family Guy: Blue Harvest" and last year's "Family Guy: Something, Something, Something Dark Side" – the Griffins reprise their intergalactic roles in an outrageous retelling ofStar Wars: Episode VI Return of the Jedi.
Fans received an early peak of the epic farce at San Diego Comic-Con as Seth MacFarlane previewed 10 minutes of "Family Guy: It's A Trap!" during the "Family Guy" panel this past weekend.
In this spectacular and offensively uproarious final chapter, Luke Skywalker (Chris) and Princess Leia (Lois) must travel to Tatooine to free Han Solo (Peter) by infiltrating the wretched stronghold of Jabba the Hutt (Joe), the galaxy's most loathsome and dreadful gangster. Once reunited, the Rebels team up with a tribe of Ewoks to combat the Imperial forces on the forest moon of Endor. Meanwhile the Emperor (Carter Pewterschmidt) and Darth Vader (Stewie) conspire to turn Luke to the dark side, and young Skywalker is determined to rekindle the spirit of the Jedi within his father. The Galactic Civil War has never been more outrageous, as the Rebel forces gather to attack the seemingly defenseless and incomplete second Death Star in the battle that will determine the fate of the galaxy.
Adding to the fun, "Family Guy: It's A Trap!" is loaded with hysterical cameo voice spots – including Patrick Stewart and Michael Dorn reprising their roles from "Star Trek: The Next Generation," Adam West ("Batman"), Carrie Fisher (Star Wars Trilogy) and conservative talk radio juggernaut Rush Limbaugh as the voice of the large carnivorous reptomammal, the Rancor.
"The fan base for "Family Guy" and Star Wars, both enthusiastic, have embraced the first two hilarious spoofs," said Mike Dunn, President, Twentieth Century Fox Home Entertainment. "Bringing the distinctive storylines together for the trilogy of parodies has been enormously successful and lends itself to create unique home entertainment releases."
As an added bonus, "Family Guy: It's A Trap!" will also be available in Blu-ray and DVD triple-packs featuring all the "Family Guy"Star Wars spoofs...the perfect gift for the holiday season.
About TWENTIETH CENTURY FOX HOME ENTERTAINMENT
Twentieth Century Fox Home Entertainment, LLC (TCFHE) is a recognized global industry leader and a subsidiary of Twentieth Century Fox Film Corporation, a News Corporation company. Representing 75 years of innovative and award-winning filmmaking from Twentieth Century Fox, TCFHE is the worldwide marketing, sales and distribution company for all Fox film and television programming, acquisitions and original productions on DVD, Blu-ray Disc Digital Copy, Video On Demand and Digital Download. The company also releases all products globally for MGM Home Entertainment. Each year TCFHE introduces hundreds of new and newly enhanced products, which it services to retail outlets from mass merchants and warehouse clubs to specialty stores and e-commerce throughout the world.
STAR WARS™ and related properties are trademarks and/or copyrights, in the United States and other countries, of Lucasfilm Ltd. and/or its affiliates. TM & ©Lucasfilm Ltd. All rights reserved. All other trademarks and trade names are properties of their respective owners.
via: Live Feed