VOTD: 'Hunger Games' Fan-Made Short Film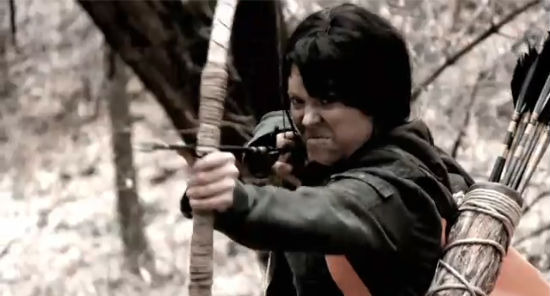 Someone is gunning for your job, Gary Ross. Or, at least trying to do your job for you. A group of talented filmmakers from the Utah based production company MainStay Productions shot at 10 minute short dramatizing a moment from The Hunger Games, a book by Suzanne Collins which is currently being adapted into a major motion picture from Lionsgate with Gary Ross attached to direct. The book is about a government organized, televised, battle to the death in which one boy and girl from each district are required to participate and kill each other.
Directed by John Lyde, the purpose of this short was to serve as an audition for "several actors I know [that] are talented enough to be involved with the feature film," according to YouTube. The clip in question focuses on the main character Katniss, played by Danielle Chuchran, and her friend Rue, played by Savanna Kylie Lewis. It got the attention of The Hollywood Reporter, it has our attention and it might just grab yours too if you check it out after the break.
For those planning on reading the books, this scene has a huge spoiler as Lyde and his team obviously wanted to pick a big, dramatic moment to showcase his actors. So, if you want to keep fresh, you probably shouldn't watch. However, as someone who is planning on reading the books, this clip only got me more excited to check it out.
Definitely an impressive piece of film making, huh? Do you think it's going to work? It will obviously get the attention of some people at Lionsgate and even director Gary Ross, but do you feel like putting together this short will give Chuchran or Lewis a leg up on the competition?
Also, fans of the book, is this how you imagined this scene or the characters?