'Harry Potter And The Summer School Spectre:' An 8-Bit Interactive YouTube Game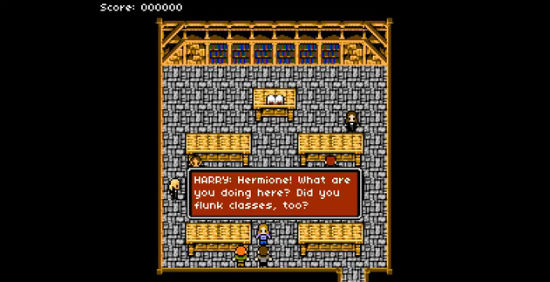 We're now mere hours way from midnight screenings of Harry Potter and the Deathly Hallows Part 1 and Potter Mania is at fever-pitch. If you're looking for a way to help feed your excitement for the film, but still want to appear to be doing work, we recommend Harry Potter and the Summer School Spectre. No, it's not an 8th book by J.K. Rowling or even an in-depth piece of fan fiction. Instead, it's a series of YouTube videos that look like an old school 8-Bit Final Fantasy game mixed with Choose Your Own Adventure books. As you watch the story unfold, you are given options as to what you'd like Harry, Ron and Hermione to do and each link brings you to a new YouTube video where the story either continues, you are given more options, or you die. Check out the starting point and more after the break.
Here's the first part of the game. You can't really embed other versions because it would be like skipping ahead in a book without reading the beginning of the story.
And a big thanks to /Film reader Geoff Y for sending this over to us.
The first and only time, I played through the game, I died immediately. For my tastes, while it's clever and funny, it moves a little too slowly. However, that's probably because the 8-bit video games it's inspired by moved like molasses too. Still, for Harry Potter fans, you could do much worse things to kill time in anticipation of the latest film.
Harry Potter and the Summer School Spectre was created by The Station and written by Phil Haney, Matty Smith, Jack Allison, and Phillip Mottaz. It features animation and music by Doctor Octoroc. You can get links to all their pages on the YouTube page for the video here.
Assuming you've given the game a shot, have you beaten it? Gotten deep into it? Gotten further than me where I died in the second video?