This Week In DVD & Blu-Ray: The Last Airbender, The Kids Are All Right, Best Worst Movie, And More
We may receive a commission on purchases made from links.
This Week in DVD & Blu-ray is a column that compiles all the latest info regarding new DVD and Blu-ray releases, sales, and exclusive deals from stores including Target, Best Buy and Fry's.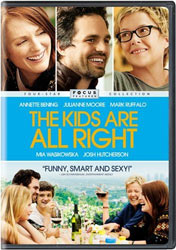 THE KIDS ARE ALL RIGHT
I suspect that there won't be much reason to revisit The Kids Are All Right ten years from now, when the perspective it provides on families of a modern era loses its freshness, but for the time being, it stands out as a uniquely contemporary, occasionally satirical portrait of a family and the issues they must contend with. Though in many respects the themes and conflicts the film tackles don't deviate much from the typical family dramedy formulas we often see in this genre—life is just predictable like that, I suppose—the narrative is spiced up by a family that happens to consist of two lesbian mothers, two children and a sperm-donating biological father. Those are just the details, however. Dramatically, the film is at its best when it provides a penetrating, fiercely honest look at the give-and-take of marriage, and in those instances the sexual orientation of the couple is pretty much irrelevant (thus allowing for a more universally accessible picture). Other dramatic elements aren't as satisfying, leaving a lot to be desired when developing and resolving the relationships between Mark Ruffalo's attempted father figure character and the children. Comedically though, the film is pitch-perfect, thanks in large part to a devastatingly emotive yet subtle performance by Annette Bening, who manages to generate huge laughs during awkward dinner conversations simply by shooting the right looks at characters. For those that appreciate character-based comedy, The Kids Are All Right comes highly recommended.
Available on Blu-ray? Yes.Notable Extras: DVD & Blu-ray – Audio commentary by writer/director Lisa Cholodenko and making-of feaurettes.
BEST DVD PRICE
Target
Best Buy
Fry's
$17.99
$17.99
N/A
Amazon – $17.99
BEST BLU-RAY PRICE
Target
Best Buy
Fry's
$24.99
$26.99
N/A
Amazon – $24.99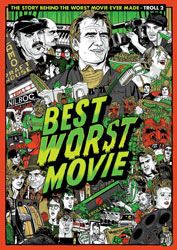 BEST WORST MOVIE
Not merely a movie for fans of Troll 2—though it certainly is that—Best Worst Movie provides fascinating insight into what sort of people were responsible for making one of the worst movies ever made, and what happens to them when that film is greeted with cult adoration many years later. It's a truly great little documentary, made by the child actor that starred in the film, Michael Stephenson. One by one, he hunts down and seeks out the rest of the cast and crew, each member an intriguing individual in their own right. Some were professional actors whose careers have suffered from the film, while others have descended into a life of sadness and loneliness. George Hardy, who played the father in Troll 2, is the star of the film. He had aspirations of being an actor that he never achieved, and now with the resurgence of Troll 2, he finally gets to experience a taste of that stardom. It isn't all he expects though, and his journey ends up being somewhat bittersweet. Less sad are appearances by Troll 2's hilarious Italian co-writer/director Claudio Fragasso, who's as convinced of Troll 2's greatness as he is his own. When attending a screening for the film, he's confused by the uproarious response the film receives, and refers to the actors who lambaste the film as "dogs". Throughout it all, Stephenson shines a light on both fandom and the reality of these films that we rarely consider. As much fun as I've had watching Troll 2 with friends in the past, Best Worst Movie has managed to give me a whole new appreciation of it.
Available on Blu-ray? No.Notable Extras: An hour of deleted scenes and interviews, fan contributions including music videos and mash-up trailers, Filmmaker Q&A with Creative Screenwriting Magazine, and a provocative message from TROLL 2's Goblin Queen, Deborah Reed.
DVD PRICE
Amazon – $17.99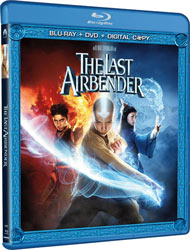 THE LAST AIRBENDER(Blu-ray available as single-disc and 2-Disc Blu-ray/DVD Combo + Digital Copy)
There are bad movies, there are really bad movies, and then there are movies like this. It must have taken an extraordinary amount of willpower to make a movie this shitty. To say it feels like a high school production might sound hyperbolic, but it's not. The Last Airbender feels like a high school production with a $150 million budget. It's kind of surreal, actually, watching inexperienced, chemistry-free actors flounder through endless scenes of dismally scripted exposition, despite being surrounded by grade-A special effects and a suitably epic score. As a massive supporter of the animated show on which the film is based, I'm still a little stunned that anyone—yes, even M. Night Shyamalan—was capable of adapting the source material so poorly. All of the expected plot beats are accounted for, but none of the emotion, wit or ferocity that gave the plot beats meaning. (That's right; this film lacks the ferocity of a Nickelodeon cartoon.) To say I hate this movie is an understatement; I am appalled by it. Watching The Last Airbender is like watching a train wreck, except the train is going really, really slow and the only person inside it is you.
Available on Blu-ray? Yes.Notable Extras: DVD and single-disc Blu-ray – An Origins of the Avatar featurette, deleted scenes, and a gag reel. Blu-ray – Includes everything on the DVD, as well as 2 additional featurettes ("Siege of the North", "Katara for a Day"), Avatar Annotations, and a digital copy of the film.
BEST DVD PRICE
Target
Best Buy
Fry's
$16.99
$17.99
N/A
Amazon – $16.99
BEST BLU-RAY PRICE*
Target
Best Buy
Fry's
$22.99
$22.99
$26.99
Amazon – $19.99
*Does not include 2-Disc Edition, which costs $26.99 at Target, Best Buy and Amazon.
EXCLUSIVE DEAL:What? 3D Blu-ray ($29.99).Where? Best Buy.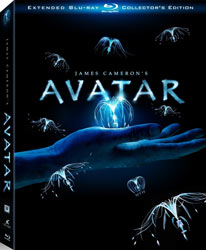 AVATAR (EXTENDED COLLECTOR'S EDITION)
Here it is—the release of Avatar that people have been waiting for. (Well, assuming you're not holding out for the 3D version.) With more extras and versions of the film than most people will know what to do with, this release should please even the most hardcore Avatar devotees, especially if you weren't satisfied by the barebones edition of the film.
Available on Blu-ray? Yes.Notable Extras: DVD – Includes three versions of the film (original theatrical release, a special edition re-release, and a new collector's extended cut with sixteen more minutes), a family audio track with all objectionable language removed, Capturing Avatar: An in-depth feature length documentary, and 45 minutes of Deleted Scenes. Blu-ray – Includes everything on the DVD, as well as 'Pandora's Box' feature, Interactive Scene Deconstruction, 17 Production Shorts, Avatar Archives (original scriptment, 300 page screenplay, and the extensive Pandorapedia), and production materials.
BEST DVD PRICE
Target
Best Buy
Fry's
$17.99
$19.99
$19.99
Amazon – $19.99
BEST BLU-RAY PRICE
Target
Best Buy
Fry's
$24.99
$29.99
$24.99
Amazon – $24.99
Other noteworthy DVD (and Blu-ray) releases this week...
A Christmas Carol [DVD / Blu-ray + DVD / Blu-ray 3D + Blu-ray + DVD + Digital Copy] – Lottery Ticket [DVD / Blu-ray] – Cats & Dogs: The Revenge of Kitty Galore [DVD / Blu-ray] – The Extra Man – Modern Times (Criterion Collection) [DVD / Blu-ray] – The Night of the Hunter (Criterion Collection) [DVD / Blu-ray]
Noteworthy Blu-ray-specific releases this week...Mutiny on the Bounty – The Twilight Zone (Season 2)

NOTES: Some deals may vary by store. Some deals may be in-store only. All deals are for DVDs unless otherwise noted.

$19.99 – It's Always Sunny in Philadelphia (Season 5), How I Met Your Mother (Season 5), Modern Family (Season 1), Castle (Season 2)

$8.99 – Blu-ray sale: Terminator 3: Rise of the Machines, Mongol: The Rise of Genghis Khan, Quo Vadis, Swordfish, The Devil Wears Prada$14.99 – Blu-ray sale: Inglourious Basterds, 9, Couples Retreat, Green Zone, It's Complicated, Public Enemies, Repo Men, The Wolfman, The Last of the Mohicans, Romeo + Juliet, Moulin Rouge!, Date Night, Hot Tub Time Machine, Valkyrie