Steven Soderbergh In Talks To Direct 'Man From U.N.C.L.E.'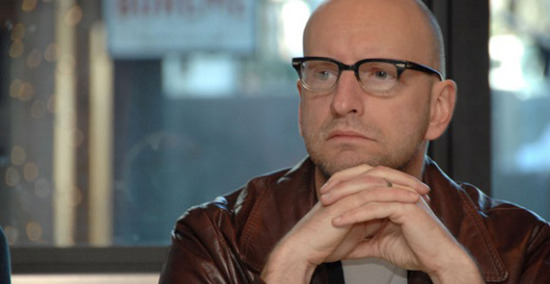 Everyone who wants to see a Steven Soderbergh spy film raise their hands. Well, you just may get your wish. The eclectic, Academy Award winning director is currently in talks to direct an adaptation of the mid-Sixties spy television show The Man From U.N.C.L.E. Scott Z. Burns, who wrote two of Soderbergh's most recent films – The Informant! and the currently in production Contagion – is also in talks to come on as a writer. The show was about an American and Russian spy who worked together for the agency called the United Network Command for Law and Enforcement.
The film, which is set up at Warner Brothers, was originally going to be a more comedic take on the material with director David Dobkin (Wedding Crashers) working from a script by Max Borenstein. Dobkin will reportedly stay on as a producer but Burns will look to write a new script. Read more after the jump.
The Hollywood Reporter exclusively broke the news of Soderbergh's involvement with the project and made the insightful statement that "with Soderbergh's varied resume, from the light touches of Erin Brockovich and the Ocean's Eleven movies to the more emotionally complex films like Traffic and Solaris, there's no telling which way the project will go."
The show, which aired from 1964-1968, was partially created by James Bond creator Ian Fleming, so you know it wasn't a comedic take on the spy genre. In retrospect, it probably looks funny to most of us (just check out the credit sequence below), and that's the vibe the Dobkin version was going to take. However, in Soderbergh's hands, it could be anything from  Get Smart to Casino Royale. The man can basically do it all.
If the tone of the film is the main question surrounding it. The second one is when will it actually get made? Soderbergh has one film that's just waiting for release – Haywire – and he's now shooting Contagion. The Hollywood Reporter surmises that he'd be ready to shoot this at the end of 2011. But a whole lot can happen in twelve months.
Below you can see the opening titles of The Man From U.N.C.L.E. and get an idea of how something that was serious in the Sixties doesn't look so serious today. What direction would you like to see Soderbergh take this film? And are there any fans of the series out there that think this is a match made in heaven?