Red Band Movie Trailer: 'Your Highness'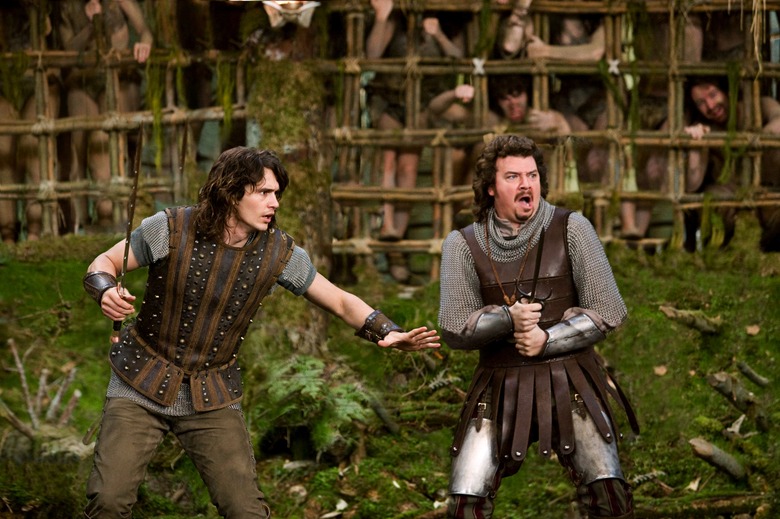 Universal Pictures has released a new restricted NSFW Red Band Movie Trailer for Pineapple Express helmer David Gordon Green's fantasy comedy Your Highness, which stars Danny McBride, James Franco, Natalie Portman, Zooey Deschanel, Justin Theroux, and Toby Jones. Ben Best wrote the script with McBride, which tells the story of "an arrogant, lazy prince (McBride) who must complete a quest to save his father's kingdom." Franco plays Bride's relatively more heroic brother, Zooey Deschanel is his bride, and Portman is a warrior princess who is love interest for McBride.
Not only is the trailer not safe for work, but at three and a half minutes, it's also well longer than the normal theatrical trailer. Hit the jump to watch the trailer now. Please leave your thoughts in the comments below.
Synopsis:
Throughout history, tales of chivalry have burnished the legends of brave, handsome knights who rescue fair damsels, slay dragons and conquer evil. But behind many a hero is a good-for-nothing younger brother trying just to stay out of the way of those dragons, evil and trouble in general. Danny McBride and James Franco team up for an epic comedy adventure set in a fantastical world—Your Highness. As two princes on a daring mission to save their land, they must rescue the heir apparent's fiancée before their kingdom is destroyed.
Thadeous (McBride) has spent his life watching his perfect older brother Fabious (Franco) embark upon valiant journeys and win the hearts of his people. Tired of being passed over for adventure, adoration and the throne, he's settled for a life of wizard's weed, hard booze and easy maidens. But when Fabious' bride-to-be, Belladonna (Zooey Deschanel), gets kidnapped by the evil wizard Leezar (Justin Theroux), the king gives his deadbeat son an ultimatum: Man up and help rescue her or get cut off.
Half-assedly embarking upon his first quest, Thadeous joins Fabious to trek across the perilous outlands and free the princess. Joined by Isabel (Natalie Portman)—an elusive warrior with a dangerous agenda of her own—the brothers must vanquish horrific creatures and traitorous knights before they can reach Belladonna. If Thadeous can find his inner hero, he can help his brother prevent the destruction of his land. Stay a slacker, and not only does he die a coward, he gets front row seats to the dawn of an all-new Dark Ages.
Genre: Comedy adventure
Release Date: April 8, 2011
Cast: Danny McBride, James Franco, Natalie Portman, Zooey Deschanel, Justin Theroux, Toby Jones, Damian Lewis
Written by: Danny R. McBride & Ben Best
Directed by: David Gordon Green
Produced by: Scott Stuber
Executive Producers: Danny McBride, Andrew Z. Davis, Jonathan Mone, Mark Huffam