Quidditch World Cup Winner Crowned In New York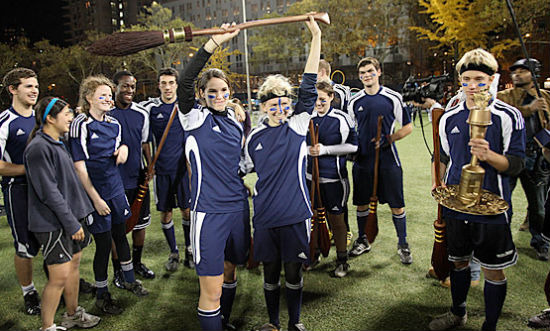 Did you see Michael Vick's game on Monday Night Football this week? What? This is a movie website and we don't cover sports? But what if those sports are based on a super popular film franchise who has its penultimate movie coming out this week?
We recently reported that the 4th annual Quidditch World Cup, based on the sport created by J.K. Rowling in the Harry Potter series, was being held in New York City. 46 teams ended up competing this past weekend in this huge exhibition of "muggle quidditch" (which you can read all about here) and Vulture has a fantastic run down of the entire event. They've got hilarious t-shirts seen in the crowd ("I got 99 problems but a snitch ain't one"), incredible examples of merchandise, and even some celebrity sightings (Hello, Benjamin Linus!). But, really, it was all about the cup and the final match pitted the defending champions, and creators of the game, from Middlebury College in Vermont against a Cinderella team from Tufts University in Massachusetts. Read about how it went down after the jump.
Here's how Vulture described the final match. It sounded like a pretty exciting affair with an eerie parallel to the World Cup match in Harry Potter and the Goblet of Fire.
The final match is between Middlebury, the second seed and defending champion, and Tufts, who earlier in the day scored an upset win over No. 1 seed Pitt (the announcer deadpanned, "Do you believe in magic?"). Middlebury is sporting blue soccer jerseys with matching athletic shorts. They look like an athletic team. Tufts is wearing T-shirts over a ragtag collection of shorts and tights. They look like a fan club getting some exercise.
The match is close at first, with Tufts' keeper playing immaculate defense against a charging front of Middlebury chasers. But Middlebury is relentless, with precise passes, juke moves, and fierce tackles that Tufts can't keep up with. Eventually Tufts Avada Kedavras itself, grabbing the snitch (a speedy strong guy dressed head to toe in yellow) and ending the match even though they don't have enough points. Middlebury is your 2010 Quidditch World Cup champion.
After the team mobs one another, they're presented with a flimsy trophy (which promptly falls apart), a set of fourteen new brooms from Alivans, and the adoration of hundreds of strangers. One woman even asks a Middlebury player for his autograph. And then it's time to party.
Congratulations to Middlebury on their victory. I'm sure they'll all be heading out to see Harry Potter and the Deathly Hallows Part 1 this Friday.
Image and story source: Vulture