Rumor Control: No 'Akira' Offer For Zac Efron; Jeremy Renner Not In 'Escape From New York'; Brad Pitt Not Making Chilean Miners Movie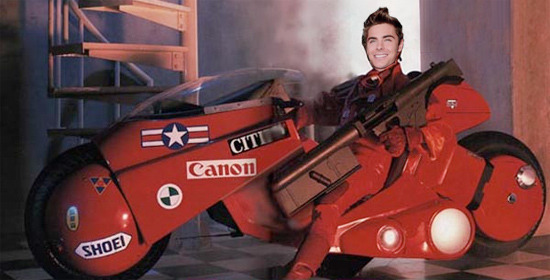 Ten days ago there was a rumor, based on a tracking board report, that an offer had gone out to Zac Efron to star in the live-action version of Akira to be directed by the Hughes Brothers. But a rep for the directors told Digital Spy the story isn't true. (At the time we were told both that there is interest in the actor, and that any involvement is "far from a done deal.") So, no Efron Kaneda for now. Thing is, he could actually play the part, but he's too old, assuming the script (by Henry Poole is Here writer Albert Torres) will hew relatively close to the characters as set up in the manga. That's a big assumption, true.
After the break, Jeremy Renner will not escape New York, and Brad Pitt has no interest in Chile.
The Wrap now backs further away from the news that Bloody Disgusting started to break last week, saying that the Escape From New York remake will not feature Jeremy Renner in the Snake Plissken role. No deal has been offered, and consequently none accepted. B-D maintains that there is interest in the actor on the part of director Breck Eisner and the producers, but it's way too early to call. This remake and Akira are in that same boat in that respect. So look forward to the day when Jeremy Renner does get offered the part! (That's sarcasm, kids. Which is too bad, because he'd be great in the role.)
Finally, there have been reports floating around today that Brad Pitt's production company Plan B is planning to make a film about the formerly trapped Chilean miners. But EW reached out to the company and was given a simple response: the whole story is false. For now if you want a dramatic recreation of that particular drama, you'll have to be content with a TV movie and/or browsing Flickr for photos of group Halloween costumes.