Carey Mulligan Said To Be Frontrunner For Daisy In 'The Great Gatsby'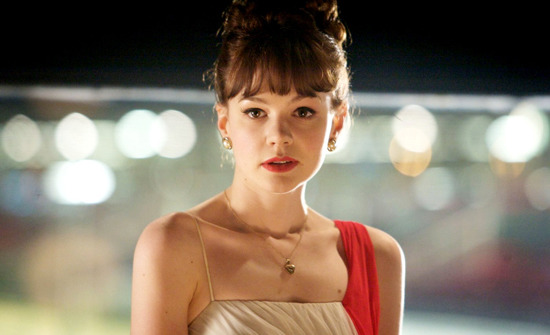 Baz Luhrmann's upcoming adaptation of the F. Scott Fitzgerald novel The Great Gatsby has been the source of one of the biggest 'actress wishlist' tales of the last couple months. (The others being Gravity and The Dark Knight Rises — says a lot about the industry today that the shortlist for each film is basically the same.)
Now the director reportedly has a new top choice to play Daisy Buchanan: Carey Mulligan, most recently seen in Never Let Me Go and Wall Street: Money Never Sleeps.
says that Scarlett Johansson has tested for the role of Daisy, the socialite and object of Jay Gatsby's affections. (With Gatsby likely to be played by Leonardo DiCaprio.) She reportedly impressed Mr. Luhrmann. But her recent commitment to Cameron Crowe and We Bought a Zoo is proving problematic. That leaves Carey Mulligan as the top candidate.
And what of all the other names mentioned
? Those were: Keira Knightley, Amanda Seyfried, Blake Lively, Abbie Cornish, Michelle Williams and Scarlett Johansson, in addition to Rebecca Hall and Natalie Portman. Rebecca Hall read the role during a script workshop, and she'd be great for it. (But is also linked to another film with Robert De Niro.) And Natalie Portman was said to be another frontrunner, and that has just evaporated.
So, the lesson to take away from this is: wait for the deals to be signed before taking any of these shortlist / frontrunner stories too seriously. We like the discussion they lead to, and have to run some of them to keep up with what's going on. But the shortlist story is one of the more useless for the most part — it's only the rare chance when a publicized shortlist leads to real fan outcry that it ever might matter at all.