Teaser Trailer: 'Battle: Los Angeles'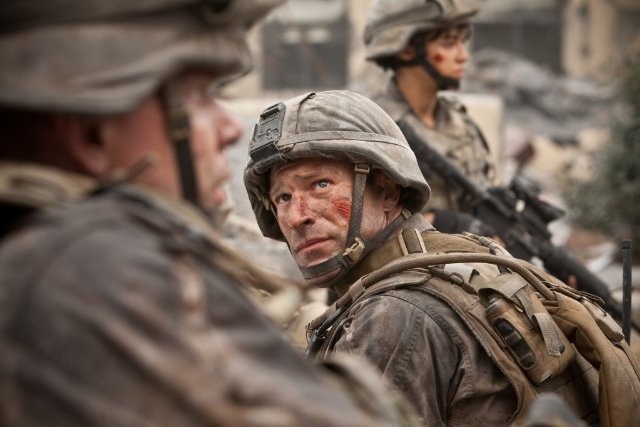 Sony Pictures has released the first teaser trailer for Jonathan Liebesman's Battle: Los Angeles. The movie has been described as a Black Hawk Down-style military story set in an alien invasion.
The footage in the trailer is pretty impressive, and is sure to get some notice. However, I think they show way too much for a teaser trailer. Remember, this is just the first teaser trailer — not even the first full length trailer. I think they might have been better off showing the opening scene from the film which featured a Marine unit who witness the sudden first alien attack on Earth. I've heard the sequence is intense, and is a great teaser for the film which follows. That's not to say that the footage shown in this teaser isn't impressive — it is. It just seems like the Sony marketing department doesn't have enough faith to do a JJ Abrams-like slow build, and instead decided to bombard moviegoers with as many cool looking shots from the film edited into a neat little package (something I think works closer toward release). That said, the footage revealed in this teaser still tries to obscure the alien creatures and much of their technology, and I doubt we'll see any of these big reveals until the film hits theaters.
Watch the teaser trailer now embedded after the jump. Please leave your thoughts in the comments below!
Official Plot Synopsis:
When unknown forces suddenly and mercilessly attack the City of Angels out of nowhere, it's up to a local Marine staff sergeant (Aaron Eckhart) and a new platoon of unseasoned soldiers to meet the threat. As the invasion hits the streets of LA, these Marines become our first and last line of defense in an intense battle against an enemy unlike any they've ever encountered before.
Battle: Los Angeles hits theaters on March 11th 2011.
via: teaser-trailer.com