'Bedevilled' And 'Hamill' Lead AFI Fest Audience Award Winners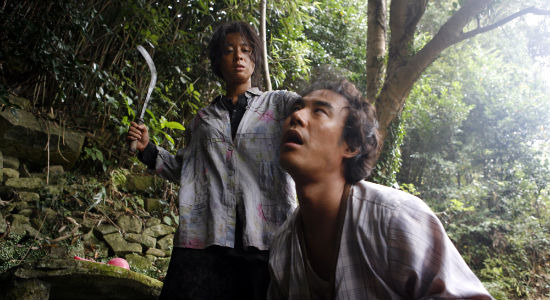 A huge hit and award winner at Fantastic Fest 2010, Bedevilled, as well as the inspiring tale of a deaf MMA fighter, Hamill are among the audience award winners at the 2010 AFI Fest in Hollywood, CA.
Bedevilled, directed by Cheol-soo Jang, won the award in the New Auteurs section while Hamill, directed by Oren Kaplan, won in the Breakthrough category. Other audience award winners include Boy, directed by Taika Waititi, in the World Cinema category as well as Littlerock, directed by Mike Ott, in the Young Americans category. Read more about the films after the jump.
I reviewed Hamill a few days ago and you can read that write-up here. I'm not at all surprised that it won the audience award because A) It played really well, B) It's a real crowd-pleaser and C) It was a world premiere featuring an audience filled with people who worked on the movie. That's not meant to be a knock on Hamill, just that – maybe – the audience was slightly biased. Still, it's a prestigious award and well-deserved. Congratulations to everyone who worked on the project.
Bedevilled is simply amazing. Coming out of Fantastic Fest 2010 it was my favorite movie of the festival and while I wasn't working for /Film at the time, here's what I had to say about it:
As is usually the case at a film festival, the films you just sort of walk into end up being the best things you see. Such was the case with Bedevilled, which made its way onto my schedule out of pure coincidence and ended up being my favorite film of the festival up to this point. It's about a timid Korean girl who visits old friends on a nearby island that's without 20th century values and rights. On this island, the men treat women however they want and very few people seem to care. It's an awful place where terrible things happen to perfectly nice people. That is, until, one of the women finally has enough. What's so great about Bedevilled is the emotions it elicits. The slow burn of the story and wonderful character development make the audience really feel something for the characters and thereby develop a gut reaction to them. So, by the time the film really kicks in, it's cathartic and exciting. A violent revenge movie not to forget, Bedevilled does not have US distribution yet. I hope that changes soon.
And while I didn't see, or know anything about, the other films just yet, here are their descriptions from the AFI Fest press release. If they are anything like the two films above, I'll be seeking them out immediately.
Boy: When his absent father returns home, a young boy in 1980's New Zealand must confront the man he thought he remembered. DIR/SCR Taika Waititi. New Zealand.
Littlerock: When her car breaks down on a sightseeing tour of California , a Japanese student discovers a different America than the one in her dreams. DIR/SCR Mike Ott. USA.
Congrats to all the winners and thanks to AFI Fest for another amazing festival.