Cool Stuff: Chewbacca In 'Attack Position' On New Mondo 'Star Wars' Poster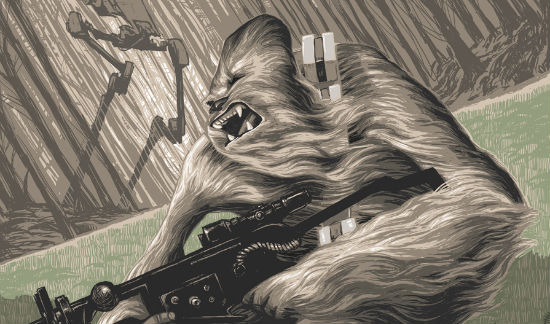 Justin Ishmael of Mondo Tees promised more and more famous characters in the second half of their sold out Star Wars poster series and he's already delivered. The last print featured Darth Vader and Luke Skywalker (in a moment that might have been ruined years prior) and the latest print features everyone's favorite Wookie co-pilot Chewbacca.
Attack Position by Rich Kelly goes on sale Friday November 12 and Kelly crushed this one. I particularly love the AT-ST in the corner and the flat Stormtroopers bowing at Chewie's feet on the forest moon of Endor. There's more information about the sale and the poster after the jump.
Thanks to Collider for providing the exclusive on the latest poster. Click on it for a high resolution version.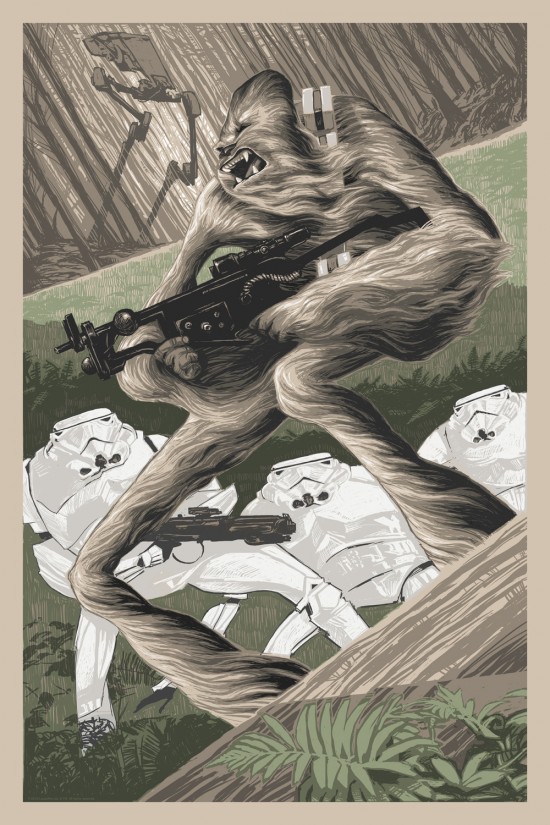 Attack Position is a 24 x 36 edition of 400 that will cost $50. It'll go on sale Friday at a random time, and the best way to find out when it goes on sale is to follow @MondoNews on Twitter.
Here's what the artist had to say about the print.
When I was approached with this project, a considerable amount of artistic liberty was encouraged. After re-watching the original trilogy and observing how Chewbacca interacted with the rest of the characters, I realized that on more than one occasion he was basically used for comic relief with Han. Even during some of the battle scenes he seems to be fumbling around a bit. As a kid, I definitely remember thinking of him as a major force to be reckoned with. Therefore, I decided I wanted to depict "Chewie" as one bad dude; kicking ass and taking names. Endor came to mind as an appropriate environment, with Chewbacca gliding down a fallen tree, about to attack a couple of unsuspecting storm troopers
Kelly's exaggerated style really does an awesome job of capturing both the rage an playful nature of Chewbacca in a single, powerful image.
What are your thoughts on this poster? And, with presumably eight left in the series, what characters and situations would you love to see? There's no mystery in what I want to see.