Louis Leterrier Wants To Direct 'Y: The Last Man,' But Studio Doesn't Know What It Wants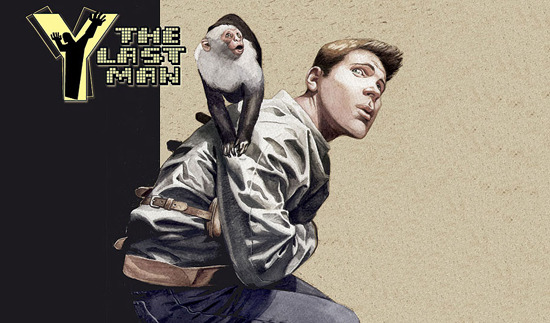 One of the comic book adaptations that just keeps kicking is Y: The Last Man. For some time DJ Caruso (Disturbia, Eagle Eye) wanted to make the movie with Shia LaBeouf starring. He wanted to make a trilogy of films, but getting a first script New Line liked and the studio to agree to make a trilogy is something that hasn't happened.
Earlier this year there was word that Louis Leterrier (The Incredible Hulk, Clash of the Titans) wanted to direct the adaptation. Now he's actually talked about it. And, yes, he does want to make it, but New Line still doesn't have an approach in mind.
MTV talked to the director, who said,
Midway through 'Clash of the Titans,' I was like, 'What's going on with 'Y The Last Man'?' I called one of the producers and asked what was going on, and he said it was available. I said, 'Let's go!'... DJ Caruso was supposed to do it with Shia Labeouf, and that sort of went on and was over, so I went in and said, 'Please, please let me have it!'...It's kind of stuck somewhere now... I still want to do it. I'm passionate about it. But it's stuck. People don't know what to do with it. I'd love to do it, but I need people to finance it, and the people financing it don't know if it's a TV show a movie, or what it should be.
Mr. Leterrier opines that either a trilogy of films or a TV series would be the best way to do the story justice, and I expect that's one point on which fans will be able to agree.
But no matter how much love is directed towards the Brian K. Vaughn comics — and that's a lot of love — I'll be surprised when New Line finally decides to go with this. It's a big proposition, and agreeing to make anything more than one film based on a property that isn't a guaranteed success doesn't seem like a realistic proposition right now. I'm sure you're wondering how any of the weird left-field comic to film projects on which we've reported get made instead. But most of those films are in development; they haven't been greenlit, and probably never will be. When something like Cowboy Ninja Viking is greenlit I'll be just as surprised as a would to see Y finally get the nod. And even then you'd just be talking about one movie, not three.
Still: stranger things have happened, and we'll continue to hope for Y's chances.