Gael Garcia Bernal Attached To Play Boxer Roberto Durán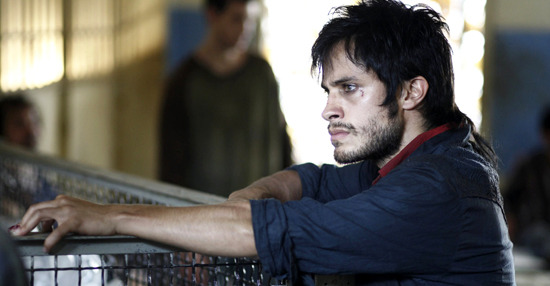 With The Fighter getting some attention and Warner Bros. developing Grudge Match, are we soon going to see a mini-glut of boxing movies? There are worse things, if so. The latest to hit the development decks is Hands of Stone, which would see Gael Garcia Bernal playing Roberto Durán, who famously lost to Sugar Ray Leonard in the 'No Mas' fight in 1980.
The Wrap says that Mr. Bernal is attached to the role of the boxer, and that Al Pacino is circling the role of trainer Ray Arcel.
If you're thinking 'how the hell can the rather tiny Gael Garcia Bernal play a boxer?' the answer is pretty simple: In the years the film will cover, Panamanian fighter Roberto Durán was a lightweight to welterweight, so the actor playing him shouldn't be huge. Durán was 5'7" — same height as Bernal — and a lightweight fighter would weigh in around 135lbs, while a welterweight comes in between 140 and 147. So he should be fine size-wise.
The question mark here is on the other side of the camera. Jonathan Jakubowicz will write, direct and produce, so the question is: does the Secuesto Express director have the clout to get this one made? But a film about an iconic Latin fighter would certainly have an audience, so while the movie doesn't have a green light at the moment the subject matter may be enough to get it to move forward.
The Wrap says the film will tell the "inside story" of the 'No Mas' fight, which was a 1980 rematch between Durán and Olympic gold medalist Sugar Ray Leonard. Durán went into their first fight with a 71-1 record and handily beat Leonard. But in their  November 1980 rematch Durán had a rough go of it, and turned away from Leonard in the seventh round to retreat to his corner and quit. He supposedly said 'no más' but reports conflict over what he actually said when quitting. Regardless, it went down in history as the 'No Mas' fight. The two would rematch again in 1989, which Durán lost by decision.
Here's video of the end of the famous 1980 fight. You'll see that Garcia looks a bit like a prettier version of Durán.