Official Photos From 'The Woman In Black' Starring Daniel Radcliffe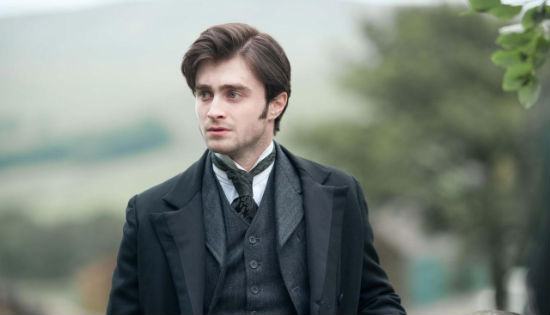 Things have gone a little bit Harry Potter crazy in the last few days, but that's to be expected with the huge movie Harry Potter and the Deathly Hallows Part 1 coming out so soon. Well, the people at Hammer Films aren't going to let the Potter wave go by without taking ride as they've revealed the first official photos of Potter-star Daniel Radcliffe in their upcoming period horror film The Woman in Black. Directed by James Watkins (Eden Lake) from an adapted screenplay by Jane Goldman (Kick-Ass, Stardust), it's about a young lawyer (Radcliffe) who must uncover a small town mystery involving the title character. Ciaran Hinds and Janet McTeer co-star in the film based on the novel by Susan Hill. We saw some set photos in September but, after the break, we've got two official images, the plot description and more.
Here are the two photos. Click on each for bigger versions.
And here's the official plot description, according to the official website.
The story follows a young lawyer, Arthur Kipps (Radcliffe), who is ordered to travel to a remote village and sort out a recently deceased client's papers. As he works alone in the client's isolated house, Kipps begins to uncover tragic secrets, his unease growing when he glimpses a mysterious woman dressed only in black. Receiving only silence from the locals, Kipps is forced to uncover the true identity of the Woman in Black on his own, leading to a desperate race against time when he discovers her true intent.
We know that Radcliffe can act and that he's done everything in his power to not be typecast by the role that made him a star, but I don't really know how he's going to come across as a young, period lawyer in a horror mystery. It's going to take a few films post-Potter for me, personally, to really buy him without glasses and a lightning bolt scar.
What excites me more than anything about this project, though, is Goldman. I have yet to dislike a film she's worked on, even if they all have been with Matthew Vaughn, and he has nothing but great things to say about her talent. This is her first solo feature writing gig and one can only assume her knack for character and dialogue will carryover to her own screenplays.
Is this a movie that's on your radar for 2011 or do you not even care?
Source: Coming Soon