Movie Trailer #3: 'Tron Legacy'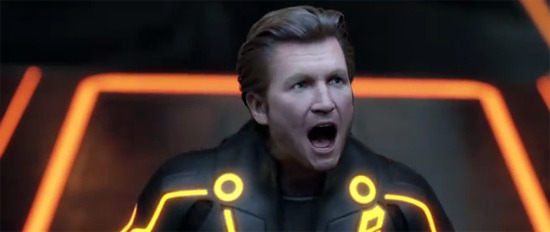 After all the posters and clips we've been on the verge of Tron Legacy overload in the past few months. OK, more than on the verge: we've got a lot of Tron materials. So why stop now? There's a third, and presumably final trailer for the film. Disney is calling it the Tron Legacy 'payoff' trailer, and that might clue you into the fact that this one shows off a big chunk of the plot arc, and relies on the dual personalities of Jeff Bridges.
If you're looking for a great many glimpses of new effects, this is not the trailer for you. If you want to see a bit more of both versions of Jeff Bridges, however, this trailer might be the payoff you want — well, short of the final film, that is.
I can't wait to see reactions to this one in the comments because to me, this trailer plays a bit flat. The music is huge and quite good, the visuals are stunning... and the dialogue and voice-over totally fail to match or even counterpoint those aspects. I've heard a lot from people who've seen various chunks of the film about what seems to work and what doesn't, and this reinforces the idea that I might be best prepared for A/V spectacle and little more. But that's Tron — it's not like the original film was a classic of character, despite a good cast.
TRON: LEGACY is a 3D high-tech adventure set in a digital world that's unlike anything ever captured on the big screen. Sam Flynn (Garrett Hedlund), a rebellious 27-year-old, is haunted by the mysterious disappearance of his father Kevin Flynn (Oscar®- and Golden Globe®-winner Jeff Bridges), a man once known as the world's leading video-game developer. When Sam investigates a strange signal sent from the old Flynn's Arcade—a signal that could only come from his father—he finds himself pulled into a digital world where Kevin has been trapped for 20 years. With the help of the fearless warrior Quorra (Olivia Wilde), father and son embark on a life-or-death journey across a visually-stunning cyber universe—a universe created by Kevin himself that has become far more advanced with never-before-imagined vehicles, weapons, landscapes and a ruthless villain who will stop at nothing to prevent their escape. Presented in Disney Digital 3D™ and scored by Grammy Award®-winning electronic music duo Daft Punk, TRON: LEGACY hits U.S. theaters on Dec. 17, 2010 in Disney Digital 3D™ and IMAX® 3D.