Robert De Niro And Michelle Pfeiffer Joining 'New Year's Eve'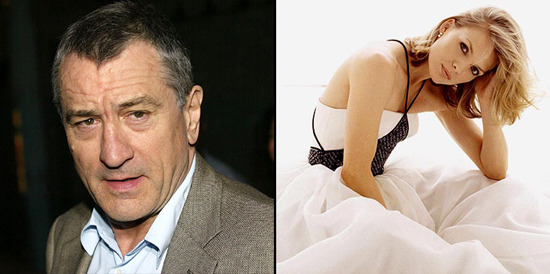 Within the next six weeks, someone you like a lot is virtually guaranteed to be cast in New Year's Eve, the ensemble romantic comedy that is a sorta-spin-off from Valentine's Day. I apologize in advance. For me, it has already happened, as Robert De Niro and Michelle Pfeiffer are negotiating for roles in the film. So are Hilary Swank and Ashton Kutcher.
THR lays out the structure: the film "tells intertwining stories of a group of New Yorkers as they navigate their way through romance over the course of New Year's Eve." Robert De Niro would be a bitter, dying man, while Michelle Pfeiffer would be "a frustrated executive secretary who decides to tackle her unfulfilled resolutions." Hilary Swank would be a producer of the big Times Square New Year's Eve celebration, while Ashton Kutcher would be cast well against type as a man who hates New Year's Eve.
This quartet would join Lea Michele and Abigail Breslin, and there will be more to come before the film shoots in mid-December. Garry Marshall is directing.