Movie Trailer: Industrial Light & Magic: Creating The Impossible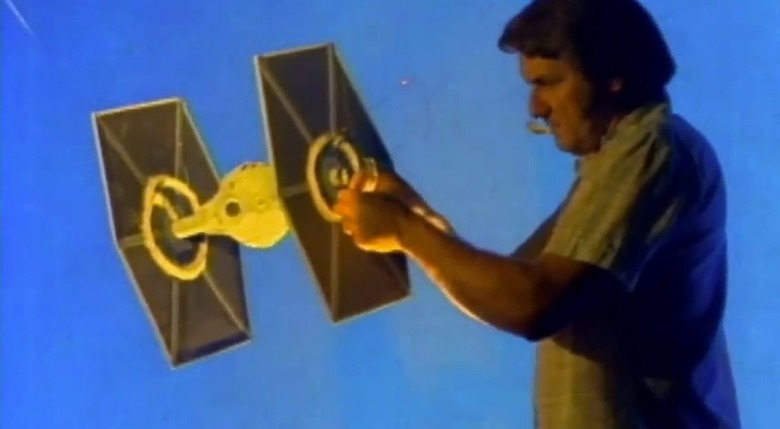 Last month it was revealed that Encore would be airing a documentary about Industrial Light & Magic, the visual effects company which has been around for thirty-five years now, after being started by George Lucas to create effects for Star Wars.
The documentary is directed by Leslie Iwerks, the filmmaker who made The Pixar Story (an awesome documentary in its own right). Both of these films were shot/produced in cooperation with the respective companies involved, which is both good and bad — yes, they are given unprecedented access to the company and people involved, but at the same time the documentary might avoid controversial bits and tell the glossier publicized history of the company. That said, I'm still very excited to see the film.
Tom Cruise narrates the doc, which also featurse interviews with George Lucas, Steven Spielberg, Ron Howard,  J.J. Abrams and Jon Favreau as well as many other producers and actors. Industrial Light & Magic: Creating the Impossible airs November 12th on Encore. Hit the jump to watch the new trailer for the film.The trailer:Original press release:
ENCORE PAYS VISUAL TRIBUTE TO OSCAR®-WINNING VISUAL EFFECTS GIANT ILM IN CELEBRATION OF THEIR 35TH ANNIVERSARY WITH ORIGINAL DOCUMENTARY "INDUSTRIAL LIGHT & MAGIC: CREATING THE IMPOSSIBLE"
Tom Cruise Narrates Doc Premiering November 14, 2010
Marathon of Five ILM-Effects Films on Encore
Beverly Hills, CA., September 14, 2010 – Since its founding 35 years ago, Industrial Light & Magic has been the movie industry's undisputed leader in groundbreaking visual effects, thrilling audiences and making hits into blockbusters. On Sunday, November 14 at 8:00 p.m. (et/pt), Encore presents an original documentary celebrating that legacy. "Industrial Light & Magic: Creating the Impossible" is directed by Academy Award® and Emmy® nominated director Leslie Iwerks and is narrated by Tom Cruise. Encore will also present five ILM-effects films starting at 2:00 p.m. with Jumanji, followed by Hook, Jurassic Park III, Twister and Starship Troopers.
The hour-long special has interviews with filmmakers George Lucas, Steven Spielberg, Ron Howard,  J.J. Abrams and Jon Favreau, actors Samuel L. Jackson and Robin Williams, producer Jerry Bruckheimer and John Lasseter, the chief  creative officer at Walt Disney and Pixar Animation Studios.  Film and television shows featured in the special include The Abyss, Avatar, Forrest Gump, Jumanji, Jurassic Park, Pirates of the Caribbean, Raiders of the Lost Ark, Robot Chicken, Star Trek (2009), Star Trek II: The Wrath of Khan, Terminator 2: Judgment Day, Transformers, Twister, Young Sherlock Holmes and The War of the Worlds (2005), which starred narrator Cruise.
Leslie Iwerks' documentary takes audiences behind the scenes at ILM with in depth interviews with some of the company's top talent and showcases never before seen footage highlighting many of their pioneering milestones. From creating the first ever computer generated character in a feature film to the latest advancements in visual effects for film franchises like Transformers and Iron Man, ILM has created some of the most memorable movie moments in recent history.
Industrial Light & Magic (ILM) is a division of Lucasfilm Ltd. and was founded by George Lucas in 1975 to create the visual effects for his space epic Star Wars. The studio originated in Van Nuys, California but moved to San Rafael, California to work on The Empire Strikes Back and is now headquartered at the Letterman Digital Arts Center in the Presidio of San Francisco with a sister studio in Singapore.
ILM has worked on nearly 300 films in its 35 year history and has largely been the driving force behind the evolution of modern visual effects.  From the liquid metal man in Terminator 2: Judgment Day to the lifelike digital dinosaurs in Jurassic park, ILM has created some of the most iconic moments in cinematic history.
ILM has received 15 Best Visual Effects Oscars® and 25 additional nominations. It has also received 23 Scientific and Technical Awards from the Academy of Motion Picture Arts and Sciences in recognition of the critical role the company's advances in technology have played in the filmmaking process. ILM is also the only entertainment company to be recognized with the National Medal of Technology.