Fourth Annual Quidditch World Cup Coming To New York City This Weekend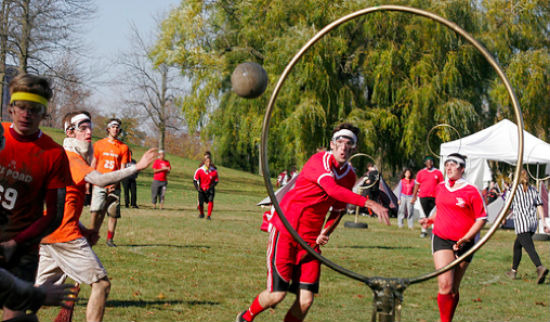 Harry Potter fans who happen to be in New York City this weekend can attend the fourth annual Quidditch World Cup. No, not the Quidditch World Cup as seen in Harry Potter and the Goblet of Fire where Ireland played Bulgaria and Viktor Krum caught the snitch but lost the game. We mean the real thing: broomsticks, but no flying. "Muggle Quidditch."
The Quidditch World Cup is the brain child of the International Quidditch Association, a registered non-profit organization that got its start in 2005 as an intermural league at Middlebury College in Vermont. Muggle Quidditch, which is adapted from the rules in the Harry Potter books by J.K. Rowling, has exploded ever since and now about 400 colleges and 300 high school field teams. The World Cup on November 13-14 will have over 60 colleges and high schools competing at New York's DeWitt Clinton Fields. We're got more info on this crazy event after the jump.
In case you are only familiar with Quidditch as a game played by wizards in a book or in the movies, here's a video explaining how it's played by muggles (non-wizarding people).
The crazy thing isn't that this World Cup is happening. It's that tons of legitimate colleges are competing: Michigan State, Penn State, Tufts, Harvard, Villanova, Boston University, New York University, UMASS, Syracuse, Ohio State, the list goes on and on. It sounds more like the NCAA Division I Basketball Championship rather than a bunch of kids running around with dodgeballs on broomsticks.
In fact, this is getting so popular, some people have been petitioning the NCAA to sanction it as a sport. It probably won't happen, but the fact that there's even a discussion is mind boggling.
Is this totally nerdy and a little wacked out? Of course it is. Does it kind of sound like a lot of fun? For sure. Things like this are the true legacy of the Harry Potter franchise.
For more information on the Quidditch World Cup, check out the official site or their Facebook.
Source: Filmdrunk