New Images From 'Paul' Starring Simon Pegg And Nick Frost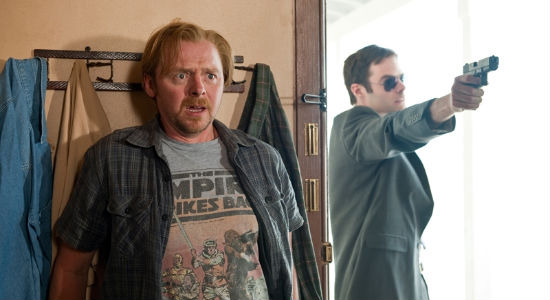 Simon Pegg and Nick Frost, best known for their on-screen team-ups in Shaun of the Dead and Hot Fuzz, co-wrote and co-star in the upcoming comedy Paul, which is scheduled for release on March 18. The pair play two British geeks who travel to America to take a road trip of famous UFO landmarks, which begins with a pain-staking re-creation of San Diego Comic-Con, and end up meeting a real life alien named Paul, voiced by Seth Rogen. Directed by Greg Mottola, Paul also stars Kristen Wiig, Jason Bateman, Bill Hader, Sigourney Weaver and Jane Lynch and is one of our most highly anticipated films of early 2011. A trailer was released last month and several photos from the film have made their way online but two brand new ones were just released. Check them out, as well as some early buzz on the film, after the jump.
Thanks to Empire for the brand new photos. Check them out below.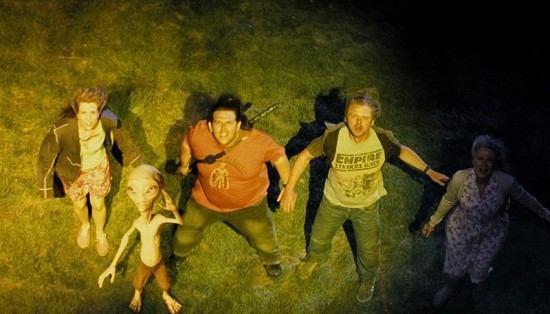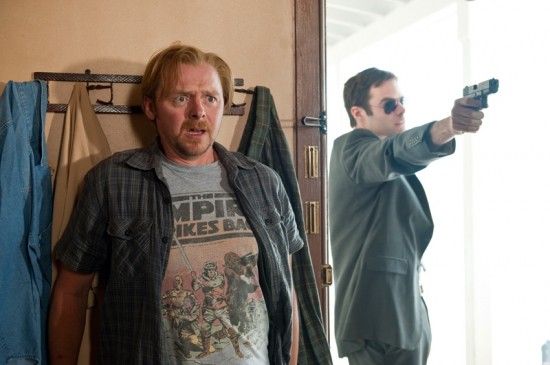 Paul has already begun test screening and I heard some early buzz about the film. From what I heard, even in its unfinished state, the film has a ton of huge R-rated laughs with plenty of heart (tears were reportedly shed) to go along with an insane amount of pop culture references. That was music to my ears but it also got me thinking – a film about two nerds and aliens filled with pop culture references might steer dangerously close to Kick-Ass or Scott Pilgrim vs. The World territory. Meaning, is it going to be a really fun film that people who read movie blogs enjoy but that the rest of America doesn't connect with? The big difference is that while those films had talented directors, neither Matthew Vaughn or Edgar Wright has had a film connect with audiences like Mottola, who had a huge hit with Superbad. Maybe he'll be able balance the niche humor that's sure to be prevalent in Pegg and Frost's script with more universal laughs.
Here's the official plot description.
Simon Pegg and Nick Frost (Hot Fuzz, Shaun of the Dead) reunite for the comedy adventure Paul as two sci-fi geeks whose pilgrimage takes them to America's UFO heartland. While there, they accidentally meet an alien who brings them on an insane road trip that alters their universe forever. For the past 60 years, an alien named Paul (voiced by Seth Rogen) has been hanging out at a top-secret military base. For reasons unknown, the space-traveling smart ass decides to escape the compound and hop on the first vehicle out of town-a rented RV containing Earthlings Graeme Willy (Pegg) and Clive Gollings (Frost). Chased by federal agents and the fanatical father of a young woman that they accidentally kidnap, Graeme and Clive hatch a fumbling escape plan to return Paul to his mother ship. And as two nerds struggle to help, one little green man might just take his fellow outcasts from misfits to intergalactic heroes
Personally, if the movie is as good as the buzz is saying, I'm holding out hope audiences will embrace the lovable chemistry of Frost and Pegg and that they see Paul more like Men In Black rather than Fanboys. What do you all think?