Jenna Fischer, Topher Grace, Malin Akerman And Chris Messina To Star In 'Giant Mechanical Man'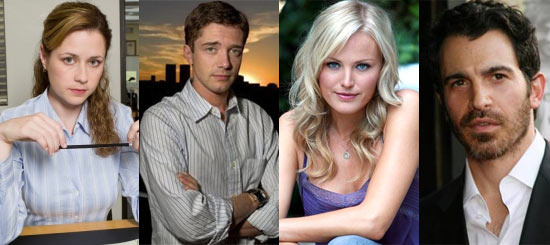 It's about time Jenna Fischer got to headline a film. The Office star has had a few choice roles in comedies like Walk Hard: The Dewey Cox Story and Blades of Glory, but even then she's been somewhat sidelined as the ancillary love interest. This time around, she'll be at the center of an indie romantic comedy that finds two guys at opposing ends of her affection. It's a fairly standard rom-com formula, accompanied by a rather baffling title: The Giant Mechanical Man.
Starring opposite Fischer is Chris Messina, a likable actor who had a recurring spot on Six Feet Under before going on to co-star in films such as Julie & Julia, Greenberg and Devil. Messina will play a misunderstood street performer, while Fischer stars as the soft spoken zoo worker who falls for him. Malin Akerman is also in the film as Fischer's well-meaning sister who pushes her towards dating a pompous motivational speaker, played by Topher Grace.
Interesting that Grace will be the a**hole counterpart to Messina; Hollywood convention would generally necessitate that in a film about "two outsiders"—as the press release describes it—the scrawny Grace would be the sympathetic male protagonist that wins out in the end over the more traditionally good-looking Messina. Not that I'm complaining; I love seeing Grace play the jerk.
Lee Kirk is directing the film, from a script he wrote. Kirk comes from a theater background, but has also worked on a couple of short films and an indie feature. Fischer is producing the project, along with Molly Hassell (who's also producing Vamps, the vampire rom-com that's reuniting Alicia Silverstone and Clueless director Amy Heckerling).
(Side note: Jenna Fischer and Lee Kirk are married. That undoubtedly factored into the casting and development of the project.)
Production begins in Detroit later this month.