'Spider-Man: Turn Off The Dark' Pushed To 2011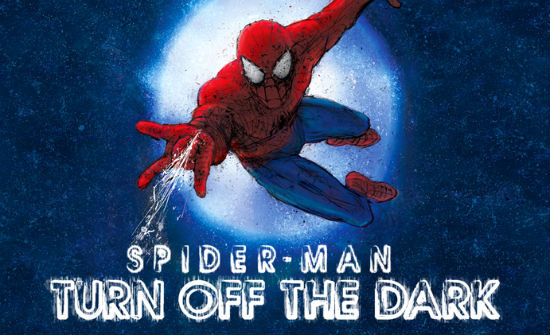 The most expensive Broadway musical in history just swung back a few weeks. Spider-Man: Turn Off The Dark, featuring music and lyrics by Bono and The Edge and directed by Julie Taymor (Across the Universe), was scheduled to open December 21 but has now been pushed back until January 2011 because of several technical issues due to huge flying stunts and special effects. Besides giving everyone more time to rehearse the elaborate stunts, and get them approved for safety by the state of New York, producers are hoping the delay spawns more interest in advanced ticket sales for the $60 million musical which, as of yet, has only sold about $10 million worth of tickets. Read more after the jump.
As Broadway musicals tend to do, Spider-Man: Turn Off The Dark has been gearing up for several years. It was finally set to fly in February 2010 but the original producers ran out of money. Since then, the production has spent another $20 million dollars in gearing up for opening night. It was set to have its first preview on November 14 but that has now been pushed back two weeks and several more weeks of previews were added before the official opening.
So what's taking so long? The production has been in full rehearsals for the past few months but apparently most of Taymor's energy hasn't been spent on the musical as a whole. Instead, she's been perfecting the stunts and special effects. One in particular that's giving people, especially Actor's Equity, a lot of issues has two characters slingshot from the back of the stage out toward the audience. Two actors reportedly broke their wrists during rehearsals.
Still, there's nothing that's not intriguing about this to me. The description of the show says that it "Draws on over 40 years of Marvel Comics" and "spins a spectacular new take on this tale that's familiar and fresh yet filled with unexpected twists and turns." Plus it's a Spider-Man musical, for crying out loud!
So, when I make it back to New York, and I can guarantee that no one is going to fall on top of me, I'm going to do my best to check this out. I'm simply too big a pop culture and comic book fan, and a fan of Broadway for that matter, to not give it a shot. Even if I do want to keep calling it "Dark of the Moon" like the new Transformers movie.
Tickets are on sale now for Spider-Man: Turn Off the Dark which begins previews in New York City on November 28.
Source: The New York Times