First Look: Seann William Scott And Jay Baruchel In Hockey Comedy 'Goon'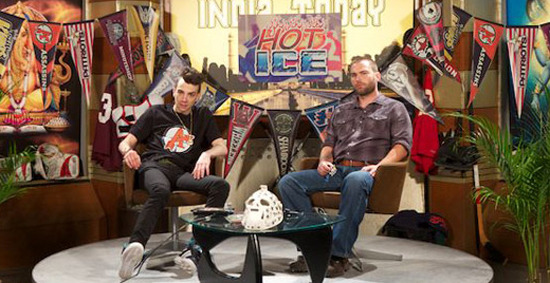 Every time I get something in the inbox about Goon I get excited, thinking there's finally movement on the David Fincher-produced adaptation of the comic The Goon. But for now, this is about the hockey comedy Goon, starring Jay Baruchel and Seann William Scott. The first pics of the film are out, and you can see another one, along with a bit of new info, after the break. 
Goon features Seann William Scott as "Doug, a small town bouncer who, after physically defending his best friend (Baruchel) at a hockey game, is recruited to play the enforcer for a minor league team."
Jay Baruchel, who co-wrote with Evan Goldberg (Superbad co-writer), says of the character and film,
Doug isn't about winning... Doug is about doing what you need to do in a given time and finding what you are good at and finding what you're meant to do. In some ways it's a fairly... anti-sports movie because there's no — well, I don't want to give too much away, but it doesn't have all the clichés that those movies usually have.
He says it's a hard R, sort of like Happy Gikmore with a little bit of The Last Boy Scout thrown in, following up that the film is for "hockey fans and fucking fight fans." OK, easy to live with that. Let's see a trailer to find out if they've nailed the proper tone.
MTV provided these images, and there's another one there at which you can have a gander.