Post-Bankruptcy MGM Wants 'Bond 23' To Arrive November 2012; Details Of New Bond Novel Emerge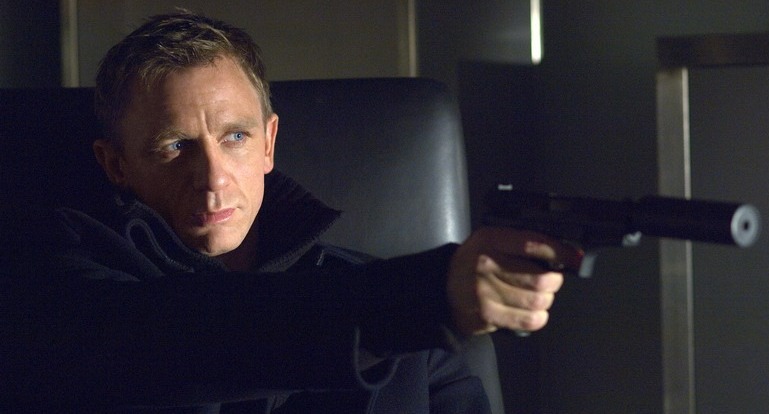 MGM filed for bankruptcy yesterday, and while there's no need to go into all the financial specifics yet again, this is just the next step in the company's reorganization. This pre-packaged bankruptcy should leave MGM creditors with equity in a new version of the company, with Spyglass Entertainment holding the studio reigns.
And, as part of discussions of the studio's future, MGM reps now say that new James Bond films could be released every two years starting with Bond 23 in November 2012.
The Financial Times has most of the details, and we'll focus on the fact that beginning with the 24th Bond film (which would be not this upcoming movie, but the one after it) the films would be "wholly owned and funded by MGM."
But this is MGM's plan. There's still EON Productions to contend with. That's the company that currently controls the development and production of James Bond films. EON suspended development on Bond 23 this year when MGM's financial situation proved to be unstable, and they'll likely have to have a deal in place with the studio to properly finance the new film going forward.
And then there's the question of what Bond 23 will be. Sam Mendes and Daniel Craig want to make the film, but will MGM and EON be able to work the project out with them? Previously a late 2011 shooting schedule was discussed, and that would work to put the film in theaters November 2012. Peter Morgan had been working on a script, but that development was part of what EON suspended earlier this year.
Meanwhile, a new Bond novel will be published next year, written by The Bone Collector author Jeffery Deaver. Project X (likely not the final title) will hit shelves in May, and Mr. Deaver told USA Today that this story is set in 2011 and features a young Bond, 29 or 30, who is an Afghan War veteran. He'll emphasize suspense and Bond will oppose a "post-9/11 evil."  The author says ""I want to stay true to the original James Bond, who many people don't know much about...People know Daniel Craig, they know Pierce Brosnan, they know Roger Moore and Sean Connery, all of whom brought a great deal to the stories of 007. But the original Bond was a very dark, edgy character."
There's no indication that Bond 23 will have any relationship to Project X, especially as the Daniel Craig films have already established a specific version of the character. If he returns — and hopefully he will — then we'd expect to see the 23rd film follow the character arc set up in Casino Royale and Quantum of Solace. But if Daniel Craig doesn't or can't return, and the studio and EON have to start from the beginning, what then?