'TRON: Legacy' Store To Open In Los Angeles For Six Weeks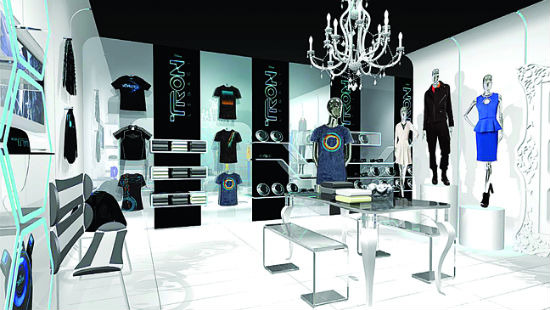 Imagine you are a TRON fan, desperately killing time until the December 17 release of TRON: Legacy. You've downloaded all the posters, listened to all the soundtrack samples, watched the clips, pre-ordered the comic books, bought your IMAX 3D tickets but still, you need more. Well, Disney is more than happy to oblige. They are opening the TRON: Legacy Pop Up Shop on November 19 in Culver City, CA for six weeks. Yes, a TRON store is opening. It'll have all kind of unique TRON merchandise, a TRON cafe, art exhibit and much more. No original Blu-ray though. It's open though December 23. Hit the jump for a ton of additional information including a release schedule, gallery of merchandise samples, the address and more.
The shop will feature unique TRON merchandise brands from Monster, adidas, Hurley, Oakley, Spin Master, Han Cholo, New Era, Threadless and more. So, yes, this would be the place to buy that TRON jumpsuit you want and also those pricey sunglasses. Plus, every week the store will release a unique piece of TRON merchandise that's not available anywhere else. We've created a small gallery to showcase some of the crazy items you can purchase at the store but visit the TRON Gear tab on Disney Living Facebook for a whole bunch more.
Here's the of produce releases and in-store events so far.
Nov. 19 – In addition to the array of pop-up shop merchandise for sale, limited quantities will be available from the TRON: Legacy couture collection for women designed by high-end designers Jerome C. Rousseau, Hayden-Harnett, Rotenier and TomTom, ranging in price from $90 – $2,600. As an exclusive for visitors, the TRON-inspired pieces from Los Angeles–based jewelry brand TomTom will only be available at retail at the TRON Pop-Up.
Nov. 30 – This week is especially designed for athletes and action-film fanatics. Limited edition products inspired by TRON: Legacy available this week include: an adidas compression top ($45), styling TRON board shorts from Hurley ($65) and special edition TRON: Legacy 3D eyewear from Oakley ($150).
Dec. 3 – Three different sets of limited-edition collectible artwork ($28.99-$76.99) selected directly from the film, plus actual film frames of different scenes from TRON: Legacy.
Dec. 7 – Soundtrack CD: The original motion picture score for TRON: Legacy composed and produced by the critically-acclaimed, Grammy-winning duo Daft Punk.
Special TRON Pop-Up Shop Events:
Dec. 17 – Fans can trade in their TRON: Legacy movie stub and collect a TRON keepsake available only on this date and for the first 300 people during Royal/T gallery hours.
Dec. 18 – Fans are welcome to join TRON Family Fun Day from Noon to 4 p.m. with art activities for the whole family including decorating a mini-lightcycle from Spin Master.
The whole thing is designed to make shoppers feel like they are on The Grid too, with all types of unique design ideas and slick colors. Basically, Disney is hoping this turns into the spot to hang out for TRON fans before and after they see TRON: Legacy.
The TRON: Legacy Pop Up Shop will be open from November 19-December 23 at the Royal/T Art Space at 8910 Washington Blvd., Culver City, CA. Hours are 10 a.m. — 6 p.m. daily, with extended hours on Wednesdays to 10 p.m.
Source: The Disney Blog and THR