First Look: 'Larry Crowne' And 'The Impossible'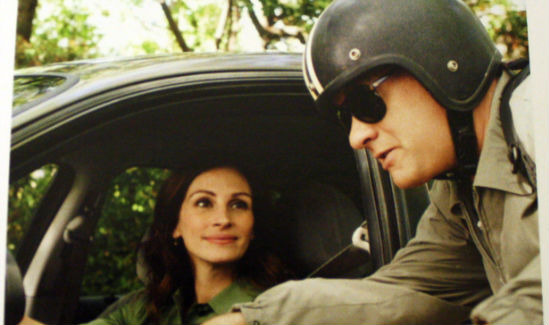 With the American Film Market in full gear, there's seemingly no end the amount of new material that will be making its way online in the coming hours and days. We're gonna package up the next two because – while radically different – each is about the best parts of being human. We have our first look at Tom Hanks' next film Larry Crowne, which he also directed and co-wrote, starring himself, Julia Roberts, Bryan Cranton, Taraji P. Henson and many others. Then we also have a poster for The Impossible starring Ewan McGregor and Naomi Watts from director Juan Antoino Bayona. Check out the full size images and official plot descriptions after the break.
Thanks to Collider for providing these images from the AFM.
Here's our first look at Larry Crowne, scheduled to open on July 1, 2011.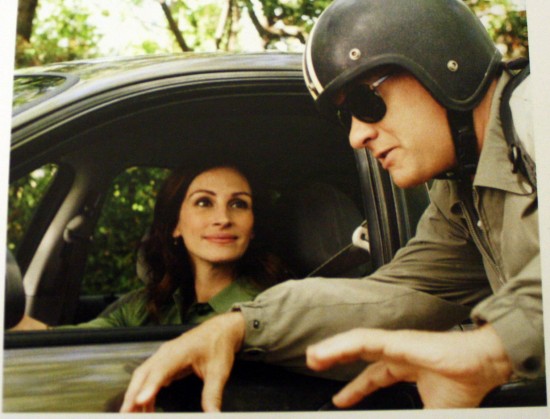 And here's the official plot synopsis.
Oscar winners Tom Hanks and Julia Roberts reunite for a dramatic comedy about how the hard knocks from today's recession inspire one everyday guy to undergo a personal reinvention: Larry Crowne.
Until he was downsized, affable, amiable Larry Crowne (Hanks) was a superstar team leader at the big-box company where he's worked since his time in the Navy. Underwater on his mortgage and unclear on what to do with his suddenly free days, Larry heads to his local college to start over. There he becomes part of a colorful community of outcasts, also-rans and the overlooked all trying to find a better future for themselves...often moving around town in a herd of scooters. In his public- speaking class, Larry develops an unexpected crush on his teacher Mercedes Tainot (Roberts), who has lost as much passion for teaching as she has for her husband.
The simple guy who has every reason to think his life has stalled will come to learn an unexpected lesson: when you think everything worth having has passed you by, you just might discover your reason to live.
And next, here's the poster for The Impossible, which will be released by Summit.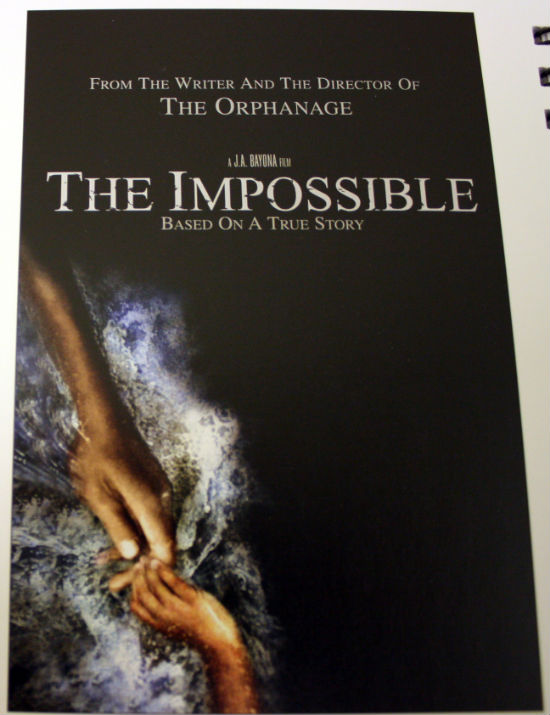 As well as the plot description:
A terrifying and emotional story based on one family's experience of the 2004 tsunami, THE IMPOSSIBLE is a compelling account of perseverance and survival in the face of unimaginable disaster and chaos.
MARIA (Naomi Watts), HENRY (Ewan McGregor) and their three sons begin their winter vacation in Thailand looking forward to a few days in tropical paradise.  But on the morning of December 26th, as the family relaxes around the pool after their Christmas festivities the night before, a terrifying roar rises up from the center of the earth.  As Maria freezes in fear, a huge wall of black water races across the hotel grounds toward her.
Henry grabs the two youngest boys, SIMON and THOMAS, but it's too late: the wave smashes into him with incredible force and dislodges his grip.  Maria is pushed underwater, where she is crushed and battered by debris to the brink of death.  She finally surfaces in a raging black sea, which has completely submerged her three-story hotel and the surrounding landscape.  Maria gasps for breath, while she tries to understand what has just happened, convinced that her family has been obliterated in the blink of an eye.  But then, her eldest son, LUCAS (Tom Holland), surfaces a few meters ahead in the wild flood.  Face-to-face with something unexpected and incomprehensible, she must fight against all odds for her child's survival.  And her own.
Based on a true story, THE IMPOSSIBLE is the unforgettable account of a family caught, with tens of thousands of strangers, in the mayhem of one of the worst natural catastrophes of our time.  But the true-life terror is tempered by the unexpected displays of compassion, courage and simple kindness that Maria and her family encounter during the darkest hours of their lives.  Both epic and intimate, devastating and uplifting, THE IMPOSSIBLE is a journey to the core of the human heart.
One is fiction, the other is not. One is based on a natural disaster, the other is not, but it seems like Larry Crowne and The Impossible share the thematic link of human rebirth in the wake of a personal tragedy. Let's hope they live up to that lofty standard.