Al Pacino, Eva Green And Susan Sarandon Cast In 'Arbitrage'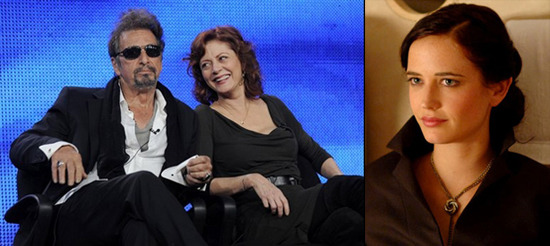 Briefly: Nicholas Jarecki is a young upstart that came out of NYU a few years ago and has produced Tyson, co-written and produced The Informers (not a career highlight) and produced and directed The Outsider, a documentary about filmmaker James Toback. If the name sounds familiar that's because he is the younger brother of Andrew (Capturing the Friedmans) and Eugene (Why We Fight) Jarecki. Quite the filmmaking family. And now the younger Jarecki has landed a stellar lineup for his new feature Arbitrage: Al Pacino, Susan Sarandon (reuniting from You Don't Know Jack) and Eva Green.
Variety reports the casting, saying that the film will feature "Pacino as a hedge fund magnate who is in over his head and desperate to complete the sale of his trading empire to a major bank before his fraud is revealed. But an unexpected, bloody error forces him to turn to the most unlikely corner for help." Like many other recent indie announcements, this one is set to debut sales this week at the American Film Market; shooting is planned for Spring 2011.
(And with respect to the image of Al Pacino above, is it me, or is he slowly becoming Keith Richards?)