Photos Of Tom Cruise's Spectacular Skyscraper Stunt From 'Mission: Impossible 4 - Ghost Protocol'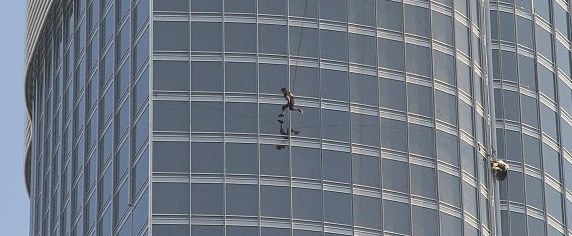 At a Dubai press conference not too long ago for Mission: Impossible – Ghost Protocol, Tom Cruise mentioned that some filming would take place at Burj Khalifa, the tallest building in the world. "I'll be spending many days, many hours on the side of this building, I can't give you details, but I will be up there," Cruise said. Now, photos have surfaced online that show exactly what he was referring to. Hit the jump to check them out.
The below photos come from the Daily Mail, who report that the shooting the scene was incredibly tense, both for film crew and for onlookers watching below. This was understandable, as Burj Khalifa took over 5 years to construct and is over 2,700 feet tall. Cruise hung from the building's observation deck, 124 floors above the ground. Apparently, the stunt involved running across the building and jumping over another actor, also dangling precariously high up. A helicopter was just 10 feet away to capture the scene from the outside.
Cruise has often expressed a preference for doing his own stunts. He told the Daily Record this past summer:
I want to entertain the audience and part of making these movies is doing my own stunts. I love having the camera right there in front of me, where you can see me holding a shot all the way through. I think it adds to the excitement for an audience. It's something that is challenging to do and fun for me.
It might sound a bit narcissistic to some but I actually appreciate Cruise's work ethic. As jaded moviegoers, we've been trained to look for the cut where the stunt double replaces the actor. It's nice to know there are still some actors out there willing to put their asses on the line for the sake of entertainment.