Tarsem Singh Signs To Direct Relativity's 'The Brothers Grimm: Snow White'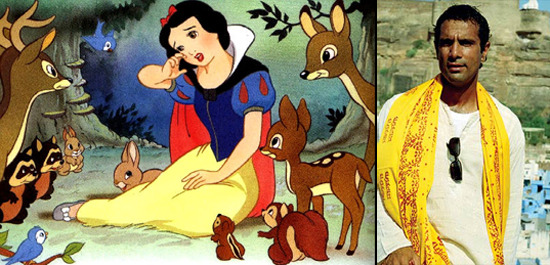 There are three outfits running in the race to make a new film version of Snow White. One is Disney, which has Snow White and the Seven in development. Number two is Universal, which is a few steps ahead with Snow White and the Huntsman, which has a script (by Evan Daugherty) and a director (Rupert Sanders) and possible stars in Charlize Theron and Johnny Depp.
But the third player, Relativity, isn't giving up yet. After offering him the project not long ago, the company has just hired Tarsem Singh (The Cell, The Fall, the forthcoming The Immortals) to direct The Brothers Grimm: Snow White.
THR actually refers to the film as Relativity's untitled movie "based on the Brothers Grimm story," so prepare to see this referred to by another title in the near future. (Deadline calls the film Snow White.)
When we first heard about the project, producer Brett Ratner said,
This is not your grandfather's Snow White. Melisa [Wallack, who wrote the script] went back to the 500 year old folk tale and put  in some of the things that were missing from Walt Disney's film. His dwarfs were miners, and here they are robbers. There is also a dragon that was in the original folk tale. Walt made one of the great movies of all time, but ours is edgy and there is more comedy. The original, made for its time, was soft compared to what we're going to do.
And, yes, as Germain has explained, while Universal and Relativity often work together, in this case they're actually competing, as Relativity head Ryan Kavanaugh bought the Melisa Walack script for this film in June. The plan was to make the film in 3D, and I'd expect that is still the case. We don't know if Tarsem will rewrite the script, or commission a rewrite, but given the speed at which Universal is trying to move forward on Snow White and The Huntsman, I'd expect this one will be pushed forward as quickly as possible, too.