Jon Favreau Calls Summer 2011 A Box Office 'Bloodbath'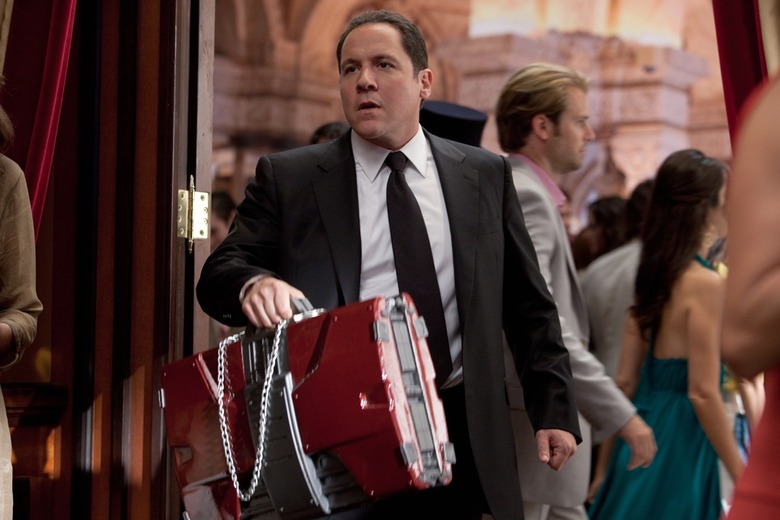 Audiences love the summer because it's the home of the blockbuster but, in terms of memorable films, the summer of 2010 was a major disappointment. Outside of Toy Story 3 and Inception, the rest of the top 10 films at the box office were a mixed bag of mediocre sequels and remakes. Thankfully, next summer will more than make up for it, at least in terms of blockbuster potential.
The summer of 2011 is absolutely loaded with massive, big budget films including huge sequels Harry Potter and the Deathly Hallows Part 2, Transformers: Dark of the Moon, Pirates of the Caribbean: On Stranger Tides, and The Hangover 2, new superhero films like Green Lantern, Thor and Captain America: The Last Avenger, kids fare such as Cars 2, Kung Fu Panda: The Kaboom of Doom and Smurfs 3D and don't forget Super 8, Rise of the Apes, X-Men: First Class and more.
Jon Favreau, director of one of the summer's wildcards, Cowboys and Aliens, is potentially nervous about the box office back up and feels like many films are going to suffer surprising casualties. Hit the jump for more.
Favreau was talking to the Los Angeles Times when he got all metaphoric discussing the summer of 2011 at the movies.
It's Omaha Beach, it's going to be a bloodbath. There's never been a summer like this next summer. It's going to be bloody [for filmmakers and the studios]. As we were sticking thumb tacks in a calendar we realized that this is going to be looked back upon as Omaha Beach.
Favreau, of course, is making a reference to the famous World War II battle dramatized in Saving Private Ryan. And though it's a strong allusion, he's right. Each one of the films listed above has $300 million potential but history has shown that only a handful of films will reach those kind of heights. So, obviously, many of these films are destined to fail simply based on the marketplace. Back to Favreau:
There's not a weekend where there won't be teeth on the floor. The audience wins but it's going to be rough for people making these movies. Then there was the big rush to 3D,  so you have all of these people fighting for a limited number of screens and to get the 3D done, since most of these are hybrids or conversions, so this is a technology that is still in the relatively early stages and there's going to be a lot of blood pressures going up in the months ahead.
As a film fan, it's exciting to think about all those movies coming out back to back but the anxiety of the studios and filmmakers must be excruciating. Which films do you feel have the most potential for being major financial disappointments? And are any of these films a stone cold lock?