/Film LA: Warner Brothers VIP Studio Tour In Burbank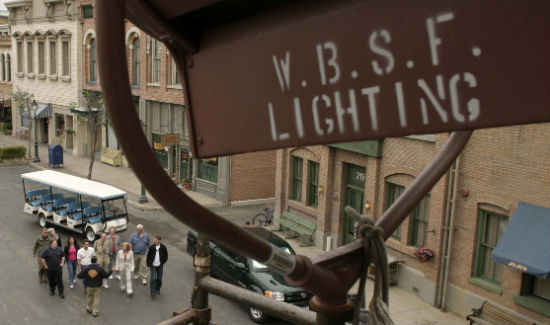 Warner Brothers has always been one of the most successful and cool studios in Hollywood. In the past decade, at the movies alone, they released the Harry Potter films, The Dark Knight, Inception, The Hangover, The Matrix, Watchmen and Where the Wild Things Are just to name a few of their geeky successes. They also have an slew of Best Picture winners from Casablanca to The Departed and they're well known for developing relationships with auteurs like Stanley Kubrick, Clint Eastwood and Martin Scorsese. Then there's all their animation, television production and much more.
So, it's no surprise to say that their VIP Studio Tour, a two hour plus, small group tram ride all over their Burbank, CA backlot, is a must for film and television fans visiting the Los Angeles area. You'll see everything from where Gremlins and The Lost Boys were shot to sets from Gilmore Girls that were repurposed for Pretty Little Liars and more. Plus you get to stop into two of the most awesome museums imaginable, check out some working sound stages (for us they were Chuck and Two and a Half Men) and maybe even run into a celeb or two. Read more after the break.
The experience begins with a Warner Brothers sizzle reel that takes you through the whole history of the studio and their films. You are then greeted by your tour guide, for us it was a cute little blond named Dana from Seattle, and you are escorted to your tram. Our group was about 12 people total and I can't imagine they get any bigger than that. Dana introduced herself to everyone and struck up conversations about what TV shows and movies each person liked. Little did we know, she would actually have a use for this information.
The tram winds its way through several different section of the lot, which are all named for the type of setting they represent. I believe there was a Midwest section, New York, Chicago, Small Town and a few others. Each has been used and reused over and over for about a million different productions over the years. At certain points, the tram stops and you get to walk in and around many of these sets.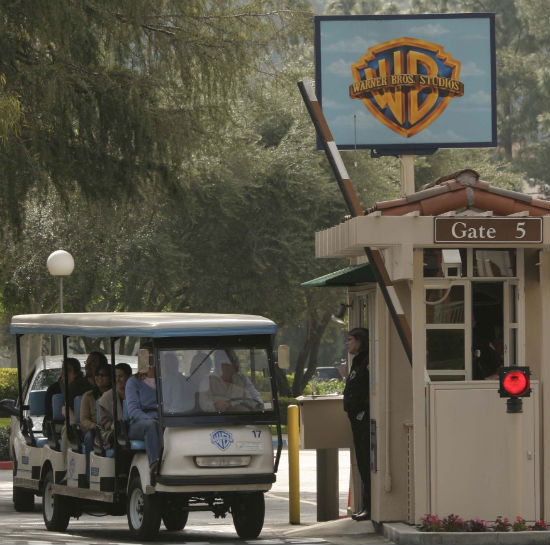 Each tour is unique from the last. For our tour, Dana took us onto the stage for Two and a Half Men and talked about the show's production schedule and showed us how all the sets were constructed. She also knew that one of the ladies on the tour was a huge Chuck fan so, she made a call, and next thing we knew we were standing in Chuck's house and the cage at the Buy More. Another example is that my Mom is a huge Gilmore Girls fan so whenever we passed something that was from that show, Dana was sure to point it out to her. This personal touch was really impressive and made us believe this is a tour that you could visit more than once.
The highlights, for me at least, were the two museums you stop at. The first is a car museum which is filled with recognizable vehicles from several decades of Warner Brothers films. There you'll see both the Burton and Nolan Batmobiles, the Gran Torino from Gran Torino, the Mystery Machine from Scooby Doo, the General Lee from The Dukes of Hazard, and then cars from Austin Powers, A.I., The Matrix, Harry Potter and more. And you are allowed to take as many photos as you want.
Unfortunately, you aren't allowed to take photos at the grand finale of this tour – the Warner Brothers Museum. This two floor building has screen used costumes, props and much more from almost any single Warners movie you can imagine. And, apparently, the exhibit changes every few months. When we walked in, we were greeted by all the costumes from The Dark Knight, several from Where the Wild Things Are, props from Inception, The Last Samuari, The Matrix and an entire floor of Harry Potter stuff. An entire floor. And that's just the tip of the iceberg.
Leaving the lot, we were more than impressed with the entire experience. This is obviously an operation that has been honed over several decades and, as it stands, it's a fun, well-oiled machine. I whole-heartily recommend the tour.
Tickets are $48 per person for the regular tour, which is what I took, and $225 for the Deluxe tour . Visit here for more information and tickets.
**Disclaimer – This tour was paid for in full and I didn't disclose that I was going to review it. I got the honest experience.